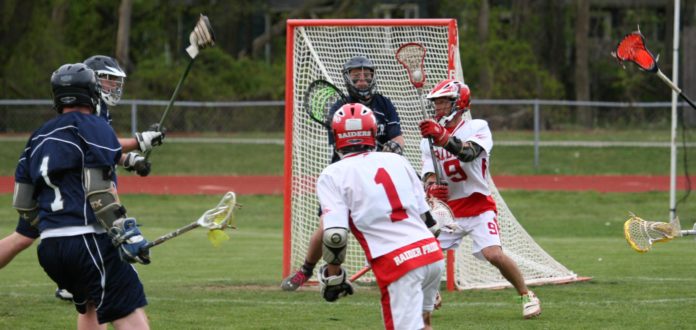 An impressive performance by Red Hook boys lacrosse at home on April 30 raised their record to 6-3. Onam Guerra had six assists and Chandler Coons contributed four goals during the 11-2 victory over Wallkill (4-4).
The only blemish on an otherwise-impressive performance was a flurry of fouls, including unsportsmanlike-conduct calls during the third quarter when Red Hook players voiced their displeasure with the refs and paid the price.
"Our players are passionate about the game and very knowledgeable," said Coach Rich Saulino. "As a coaching staff, we strive to teach both. We do stress the importance of focus and control, we teach them to play within the confines of the rules and the nature of the game — we had a momentary lapse of that aspect of our game."
Overall, Coach Rich Saulino was pleased with the team's performance.
"We felt that we played well, offensively we controlled the tempo of the game, defensively we held Wallkill in check," said Saulino. "A win today got us back on the winning track after a set-back against Minisink on Saturday. It was also a divisional win for us."
Facebook Comments