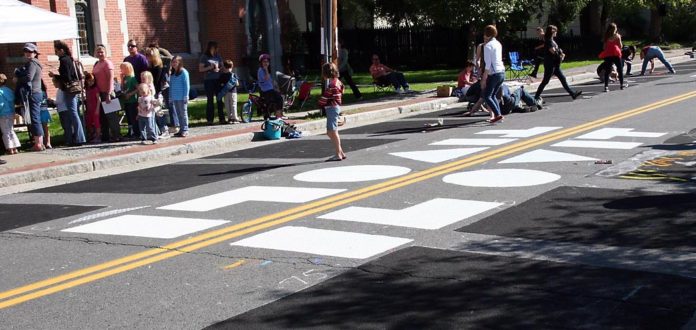 Tivoli trustees eliminated funding for village celebrations like the Tivoli Street Painting festival and Winterfest and also trimmed parks and recreation funds in an effort to keep the village budget below the state-mandated tax cap.
UPDATE: In recent years, the Tivoli Street Painting Festival has managed to raise enough funds from Bard and local businesses not to need money from the village celebrations budget. Other celebrations have had to rely on village funding. (June 19, 2012)
The total budget, passed on April 30, is $714,288, with $420,075 (59 percent) coming through property taxes. That translates into a 2.01 percent increase in the tax levy.
According to Tivoli Mayor Bryan Cranna, the tax cap calculated for Tivoli after considering exemptions this year would have allowed an increase of up to 3.14 percent.
"There were some difficult cuts that we did make. One of the most difficult cuts was cutting the celebration line," Cranna said. Tivoli typically hosts a Winterfest with fireworks and horse-drawn carriage, the street painting festival and other events. "It is very difficult to justify a celebration line when you are trying to stay within 2 percent to keep taxes low."
According to Cranna, Tivoli will now rely on the recreation committee to raise event monies through donations and fundraisers. Last year, Tivoli spent just over $14,000 on what the budget calls celebrations.
Parks and recreation also took a big hit in the budget, according to documents provided by the village. Budgeted last year for $40,036, it has been reduced this year to $10,200. Requests for comment on the impact of the parks budget received no response by press time.
The village hall needs some repair work this year, Cranna noted, so $30,000 is budgeted for building improvements, up from $20,000 last year. "Our roof needs to be replaced and repaired at village hall, so that's going to be a cost factor. [And] right at the end of the winter the furnace went, so we need to replace the furnace," he said.
As in most budgets, pension costs and mandates from the state have also increased, albeit at a smaller scale in Tivoli, which does not have its own police force.
Zoning has been allocated an additional $12,000 this year to finally get all the new codes filed in electronic form, something Village Trustee Susan Ezrati has been looking forward to.
"This is very important because we have had a number zoning laws passed — the new bulk regs in 2010, the change in the scofflaw laws for parking and the change in the zoning for 9G. — None of this is in the electronic version of the general code, because we haven't been able to afford to file," Ezrati said.
Making the laws accessible online should save applicants time and money when figuring out what can and can't be built in the village.
Referring to the recent self-storage proposal by Jack Grumet that came before the Zoning Board of Appeals, Ezrati said, "One of the updated codes restricts buildings to 7,600 square feet in the R-B district [along 9G]. Mr. Grumet unfortunately didn't know that, so he anticipated putting in 18,000 square feet, which would have been well over the limit."
Like many other municipalities, Tivoli is also struggling with its fund balance. According to Ezrati, the village has virtually no balance and is waiting to find out if there will be any surplus left from the 2011-2012 budget year.
Salaries for elected officials will remain the same, with the mayor earning $9,900, deputy mayor at $3,500, and the remaining three trustees at $2,500.
Facebook Comments