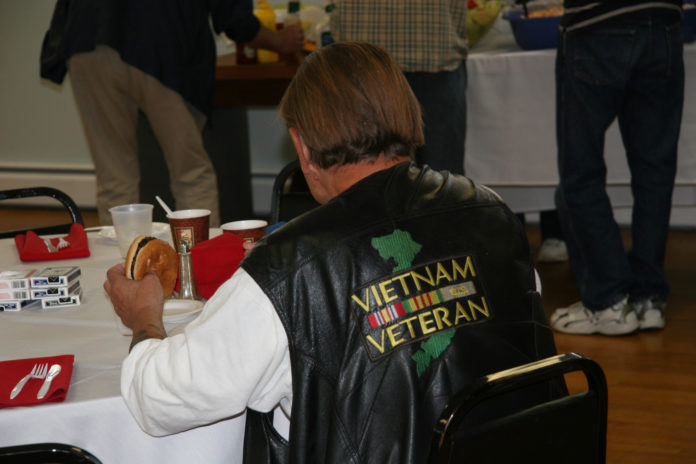 It was a perfect Saturday for a barbecue with bright sun and blue skies when the buses arrived at the Red Hook/Rhinebeck Elks Lodge #2022, at the corner of Mill Road and Route 9, on July 21.
Forty eight veterans from a half dozen care facilities across Dutchess County and Ellenville and their caregivers were able to attend the event, the second of three that the local lodge holds each year.
"This is the one we call the picnic," Exalted Ruler Richard Belcher, who is serving his fourth term as "president" of the lodge, said during the event. "We've got hamburgers, hot dogs and salad right now. After they finish this in a little while, we're going to bringing out barbecue chicken for them."
The events for the vets were begun 12 years ago by Vietnam veteran Tony Southard, who has now served in the Elks for more than two decades.
"We did really well one year with deer hide collections and made a profit of $5,000," Southard said. "We really couldn't find a direct hands-on program and started talking around with [VFW Leader] Billy Moore and decided 'Let's do a party!' It's been a great thing; it really caught on."
The vets receive care packages as well, and during the annual November party, there's a visit from Santa Claus.
"This time they'll be getting socks, debit cards, and the homes get a couple of games, Chinese checkers and dominos… just something they can do as a group," said Belcher.
The Elks are a nationwide benevolent fraternal organization focused on "veterans, Americanism and youth" said Belcher. The Elks are second only to the U.S. government in scholarships given to youth, according to Belcher and are not-for-profit.
"We're out at the street fairs, we'll be at Hardscrabble, we were at Apple Blossom," said Belcher, when asked how people can find out more about what the Elks do. "We're getting together a steak-and-chicken bake, which will be August 11. That's open to the public. People can come there, see what we do."
Tickets for the August 11 fundraiser are $30 and must be purchased by August 6. Call 845-758-3129 for Rick or call the lodge at 845-758-2022.

Facebook Comments