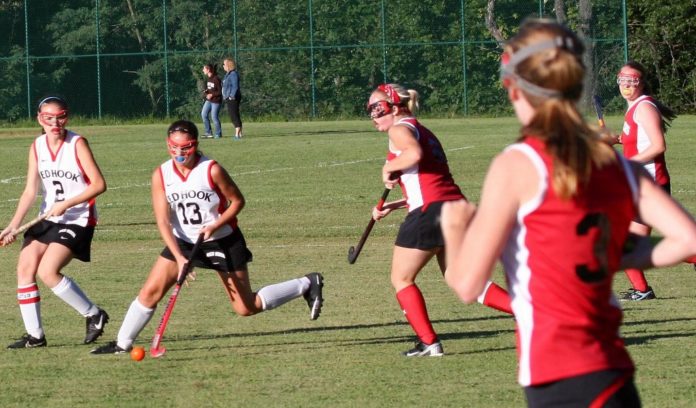 Red Hook's field hockey team doesn't face off with Germantown much, and when they do, it can be confusing because both teams sport similar red jerseys.
Discerning field hockey fans know, however, that if you want to figure out who's who, just look at the scoreboard.
In Red's 4-0 victory over Germantown Sept. 6 at the Andy Bennett Tournament at Rhinebeck High School, the Raiders were in charge. After they controlled the ball for the first five minutes of the game, Red Hook's Jessica Osterhoudt ripped a shot that was deflected. It took another five minutes until Red got their first goal, after Marist Parr chipped in a shot following a scrum in front of Germantown's goal at 18:37. Red Hook's Kaleigh DelGuidice knocked in the next goal at 7:37, and flushed her second at 6:33 to send Red Hook into the half leading 3-0.
The tune didn't change much in the second. The scoring tempo slowed for Red, and Germantown failed to capitalize on a pair of breakaway scoring opportunities. Parr netted her second goal at 24:15, and finished with a total of eight shots on goal. Shannon Yearwood led with two assists in the match.
"We moved the ball well," Red Hook head coach Diane Zduniak told The Observer. "We generated a lot of offense and we took advantage of our corners. I'm proud of them for that."
"Our midfield is doing really well controlling the ball," she added.
Red won the tournament championship the next day, beating Spackenkill 6-0. Marist Parr had three goals in the match.
Rhinebeck didn't fare so well in the tournament. The Lady Hawks fell 3-2 to Spackenkill in the opening leg of the tournament Sept. 6, but beat Germantown, 3-2 in overtime, in the consolation game the next day.
Facebook Comments