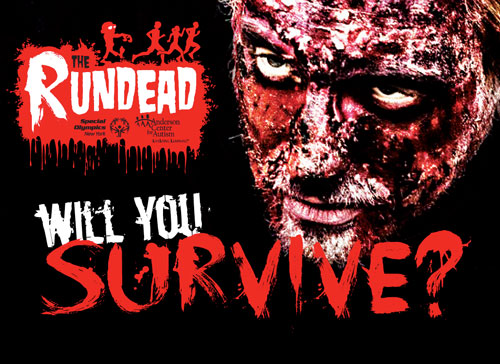 An offbeat 5K run in Staatsburg Oct. 26 will benefit the Anderson Center for Autism and New York Special Olympics.
The rUNDEAD allows participants to choose being either the hunter or the hunted.
Registrants may select "runner" or "zombie" status and will receive flag belts with three flags; zombies will try to remove flags from the runners' belts. Runners can complete the race without flags, but are ineligible for prizes.
Registration begins at 8:30am; the race will begin at 10:30am. Register online as an individual or a team in advance for $30 or sign up that day for $35. Each runner will receive access to the course, race day festivities and an official rUNDEAD race day t-shirt.
The race will take place at the Anderson Center campus on Route 9. in Staatsburg,
To register, go to www.2013rundead.kintera.org/staatsburg. More information is available at www.facebook.com/RunDeadHVR.
Facebook Comments