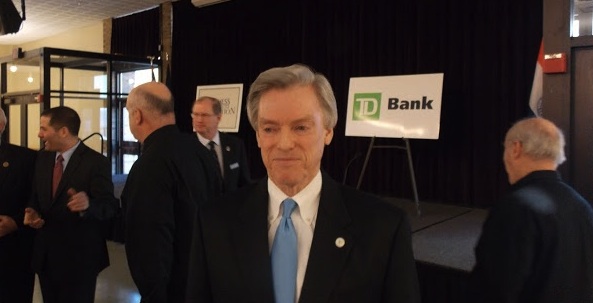 Usually, the audience gathered for Dutchess Community College's annual President's Breakfast hears from an alumnus or community activist, but this year they were to words of wisdom from the college president, Dr. D. David Conklin, who is retiring after 22 years at the helm.
A gathering of 200 government officials and members from the Dutchess Foundation Board, the college's Board of Trustees, alumni, and community activists met in the Drumlin Hall dining room on the DCC campus Jan. 9 to hear the fourth president deliver thoughts on his extended tenure.
Opening with a light touch, Conklin mentioned that most college presidents are not long remembered after they retire and that is why there are portraits of them hanging on the college walls.
"In my case," said the outgoing leader, "I gave them a picture of Brad Pitt to paint so the memory will last a little longer!"
Since Conklin took the helm in 1992, enrollment at DCC has increased by 40 percent, with 36 percent of all Dutchess County high school graduates attending each year. This is the highest capture rate of high school graduates in the state of New York,
During the recent recession, Conklin praised the college as "our greatest asset for ensuring opportunities at the college level for students from modest-income families."
The college has the lowest tuition rate in New York State and many students receive support from the Dutchess Foundation, which has witnessed a huge increase in its assets during the past 22 years. When Conklin started, the foundation had assets of $285,000; today, they total $8,500,000, which translates to 150 scholarships awarded yearly to deserving students.
Among the other accomplishments listed under his leadership were the opening of a residence hall, acquisition of $2.6 million in art work at no taxpayer expense, construction of the Washington Center for Science and Art, expansion of the college library, and a host of awards for excellence.
Looking to the future of DCC, Conklin said, "We must continue to work with our local high schools, keep offering college credit courses at these schools, enhance articulation with four-year colleges, and keep the path to success open for our many students."
One of the chief benefits of community college education mentioned by Dr. Conklin was the fact that every dollar spent for education results in a return of four dollars for local taxpayers because many students find the path to success by completing programs at the local campus.
Facebook Comments