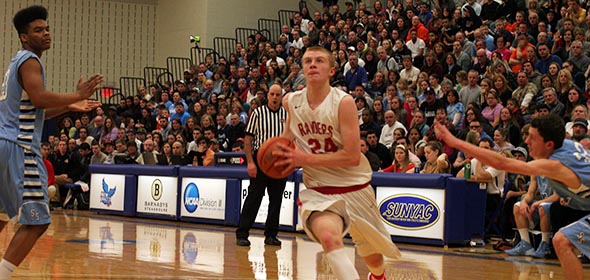 The Red Hook Raiders met the Maine-Endwell Spartans in a 7:45pm tip-off in Johnson City, NY. Below is a copy of our live updates on Facebook. In-depth coverage to follow on Wednesday.
Red Hook Today: Tip-off at 7:45pm.

Red Hook Today: Red Hook leading 23-20 with 5 minutes left in the 2nd quarter!

Red Hook Today: Red Hook is up 45-29 at the half. Dennis Hare with an 11 point second quarter, 16 points overall.

Red Hook Today Good cushion going into the second half, Red Hook playing small ball so far.

Red Hook Today: Red Hook comes out cold in the second half, still up but M-E on 7 point run: 45-36. RH calls timeout at 5:05 in the 3rd.

Red Hook Today: RH's Paddy Parr drives, scores and is fouled. Three point play to stop the M-E run. 48-36 at 3:12.

Red Hook Today: 53-39 end of the 3rd quarter. Paddy Parr hits a huge 3 at 1:33. Big turnaround by the Raiders after cold start to the half. Red Hook crowd drowning out the M-E fans.

Red Hook Today: M-E Spartans missing the basket left and right. Big three pointer by Nick Michitsch with 6:10 remaining to make it 59-42!

Red Hook Today: 15 point lead with less than 5 minutes remaining…

Red Hook Today: Lots of fouling as M-E tries to come back.

Red Hook Today: FINAL! Red Hook 68, Maine-Endell 57! Congratulations to the Raiders boys basketball team. Next opponent is Section 1 champ Panas (18-4) scheduled for Friday afternoon.

Red Hook Today: According to the state site, the next game is at Beacon High School on Friday at 4pm.
Facebook Comments