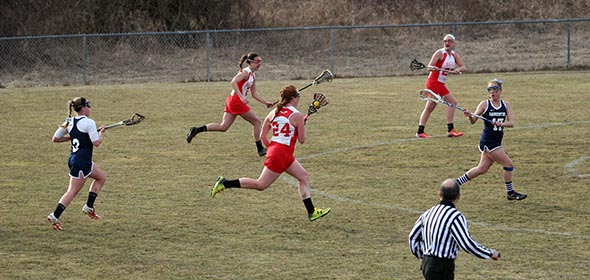 Maybe next year.
Going into the regional semifinal lacrosse game at Dietz Stadium Wednesday, Red Hook's Lady Raiders looked poised to give Albany Academy a run for their money. Though they'd lost to Albany three times in as many years — including in a 2011 regional semifinal — the Red Hook team went into the match against the seven-time-straight Section 2 Class C champions with as potent an offense and as good a record as they ever had.
But they couldn't make it happen, falling 12-8 to the Bears to end what had been a perfect season.
Head coach Yvonne Turchetti told the Observer before the game that it was good to have a chance to play a team that the Lady Raiders had faced so many times before. But she added that Red Hook would have to come through against Albany's constant double and triple teaming.
Forewarned isn't always forearmed. From the get-go, Albany pressed aggressively, clamping down hard on Marist Parr in Red Hook's first two offensive possessions.
Parr said, "[We did not handle the Bears double and triple] as well as I'd like to have handled it. I thought we handled it reasonably well, especially once we got used to it. They put tremendous pressure on the ball, and if you can pass out of it, you'll be successful."
Parr did get some revenge, scoring at 19:24 after a long Lady Raider possession, but not before Albany flushed two goals, one coming in the first minute and 30 seconds of play.
Albany kept the heat on throughout the half, with their offensive tempo high — the Bears scored two goals in the 16th minute — and their defense grinding it out. Red Hook goalie Shelby Wilcox struggled against the Albany defense, and had trouble clearing the ball downfield, instead opting for dangerous, behind-the-goal handoffs. Red Hook came out of the half down 9-3.
The Lady Raiders began to turn it around in the second half. Parr scored on an assist from Lindsay Hobson at 23:44 and Hobson then scored a minute later to make it 9-5. With 21:33 left, Ciara Burud scored to get Red Hook within three goals of Albany, 9-6, and forced a Bears timeout. But in spite of two more Hobson goals in the final minutes, Albany Academy regained their scoring pace, and flushed three more goals in the period.
Red Hook, in the second half, tied Albany with five goals scored.
And Turchetti had only praise for her team after the game.
"I'm really proud of them, you know? This senior class has done so much for the program, and it's sad to see all five of them go – four of them have been with us for all four years," she said.
Before the regionals, Red Hook remained undefeated in 2014, compiling a 16-0 record with their win against Millbrook May 22 at Dietz Stadium. The victory, by a score of 10-9, was by far the Lady Raiders' tightest game of the season.
Facebook Comments