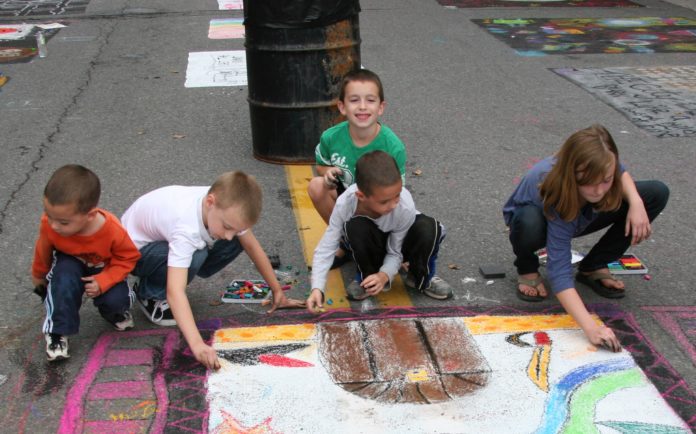 The annual Tivoli Street Painting Festival has always been a special day in the Village of Tivoli. Accomplished artists, children and those who want to express themselves in chalk art make the streets their palette for the day.
This year's festival is on Sunday, Oct. 5 (postponed from Saturday due to weather concerns) and runs from 9am to 5pm on Broadway, which will be blocked off from the four corners to the Library and down Feroe Avenue. There will be approximately 130 8-foot-by-8-foot squares available for registered participants.
Village officials say the event will go on because of many local business sponsors including The Mid-Hudson Arts Council, Bard College, Tivoli Bread Company, Classic Auto, Luna 61, Santa Fe, Fabulous Yarn, Town of Red Hook Councilman Harry Colgan and longtime resident and firefighter Claude Potts.
Water and apples will also be distributed free and Joe Tobin's Acoustic Medicine Variety Show will provide live music.
"It is all about the experience of creating art, enjoying Tivoli on a beautiful fall day, and sharing it all with others in our community," said festival organizer and village trustee Susan Ezrati.
Registration forms are available on the village website, www.tivoliny.org. Chalk and a square of pavement will be provided free on a first-come, first-served basis, but registration is required and begins at 9am on Oct. 5. The registration table will be in front of Tivoli Bread Company on Broadway. To pre-register, email your registration form to Ezrati at sgezrati@gmail.com, or mail it to Village of Tivoli, PO Box 397, Tivoli, NY 12583 c/o Trustee Ezrati.
Facebook Comments