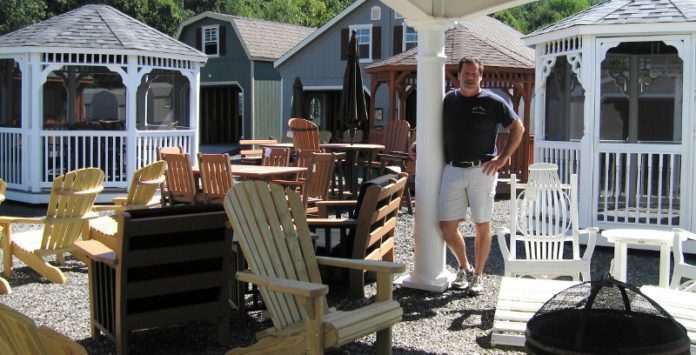 Halfway between Red Hook and Pine Plains on Route 199, there's an eye-catching structure nestled into the eclectic village that makes up Bayhorse Gazebos and Barns.
On a recent visit, there sat a children's playhouse modeled as an ark, resting among the collection of 150 structures, which include pavilions, pergolas, sheds, dog houses and chicken coops.
Owner Gerry Thorpe has put a lot of his enthusiastic energy into expanding the inventory for the last 25 years, offering the best in Amish craftsmanship, which can be ordered as stock items by visiting the onsite office or ordering online, along with the ability of the Bayhorse staff to customize many designs to fit customers' needs.
"The beauty of what we have to offer is expertise in building," Gerry said. "We bring a lot of creativity to the table. We're going to strap on the tool belt and go and interact with homeowners. I love laying out these really amazing swimming pool environments, and we're doing some incredible garages. We have a lot of return customers; for one guy, we built…this gorgeous pergola, then a pavilion, then a playhouse, and now a horse barn."
He added, "I think that's a testament to our quality and our 'country boy mentality': it's a genuine handshake, it's a smile, and it's a valid promise."
Bayhorse is known for its commitment to the equestrian community in this area; for four years, they have been a major sponsor of the Millbrook Horse Trials, one of the largest eventing competitions in the United States.
Louise Meryman, MHT president, expressed her gratitude: "Gerry has the right take on life. He really believes in giving back. He donated a custom-built office space and storage space that are very attractive, so they add to the look of quality that we demand at the horse trials. At my own farm and business in Pine Plains, I have many of his barns, both stock and custom, and they are fantastic. "
Gerry explained the relationship between Lancaster County, Pa., and the Hudson Valley. "Sometimes the Amish need to come here to build when we can't bring a structure onto someone's property due to transportation or access restrictions. They interact with our customers, kind of like the old-fashioned barn raisings. People love it," he said. "They begin work at six in the morning, and work and work and work."
There are just three other staff members who assist him. "Years ago, it was a staff of 12," he said. "We had three trailers and trucks going around the clock." Because of the economy, however, he now depends on Rob and Sergio, the Bayhorse builders, and Shawna, his assistant.
Gerry's work ethic reflects his personal life. "I believe in church, community, family," he said, adding, "I'd like to be the king of the horse barn industry…but I really wanted to be a math teacher, especially since I love kids."
Raised in Hyde Park, he also worked there for the family business of furniture restoration and home building and restoration. He still lives there with his wife of 30 years, Carla, and their children, Chelsea and Mitchell, who are both out in the working world.
Gerry is passionate about shopping local and well known for supporting numerous local organizations. "How do you not?" he asked. "I write checks, donate items for auction, and sponsor events. You name it, we join it."
Bayhorse Gazebos and Barns
2 Academy Hill Road, Red Hook
845-758-1054
www.bayhorse.com
gerry@bayhorse.com
Facebook Comments