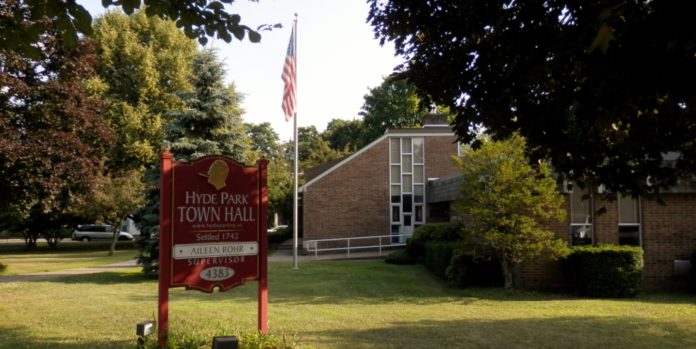 Salt Point Tpke. variance hearing set
Cheryl Rosen-Christmas of 541 Salt Point Tpke. went before the ZBA Sept. 24 to discuss a new application for a variance to change her property designation from 2 acres per dwelling unit to .49 acres per unit and to change a rear yard setback for a pre-existing shed from the required 25 ft. to 16.4 ft. Board chair Mary Donohue noted that the measurements for the shed may be wrong, thus Rosen-Christmas has to take the measurements and send them to the board before notice of a public hearing can be sent out. Board member Stanley Frangk suggested that the board talk to the board attorney, Victoria Polidoro, about the wording of the notice as the applicant technically has two sheds, and the board is unclear if the applicant will need approval for her second shed. A public hearing was tentatively scheduled for Nov. 12.
Dollar General sign variance gets hearing
Ralph Edmund of Action Signs Co. represented Dollar General Sept. 24 to schedule a public hearing for a new signage application to be considered by the ZBA. Dollar General is seeking a variance to change the maximum cumulative sign area from 70 sq. ft. to 91 sq. ft., change the size of a freestanding sign from 30 sq. ft. to 32 sq. ft., change maximum letter height from 10 in. to 18 in. for two wall signs, and change maximum letter height from 10 in. to 12 in. on a double freestanding sign. Chair Mary Donohue commented that Dollar General could ask the planning board to give the increases in letter height so that the applicant doesn't have to ask the ZBA for as large a variance. Donohue also asked for an image of what the side would look like in compliance with the code and that Edmund present his explanation of why the increases are necessary at the public hearing, which was set for Oct. 22.
Homing pigeons OK'd on Holt Rd.
The application by Curtis Williams of 47 Holt Rd. to continue to house homing pigeons was unanimously approved Sept. 24 by the ZBA. The variance will allow animal husbandry for homing pigeons to be conducted within 77 ft. of the closest of six houses within the 250 ft. setback that is normally required. During the continued public hearing, Williams told the ZBA that he has almost finished constructing a fence and will soon put siding on the coop, as requested by his neighbor at the first public hearing. Williams also brought in his birds' vaccination and lineage records and noted that all 30 birds will be re-vaccinated this month. Two neighbors spoke of their approval of the modifications Williams has made so far. The public hearing was closed and the application was approved unanimously on the condition that no more than 30 birds are permitted and that no breeding is allowed.
Calmer Place shed variance approved
A new public hearing was opened for Douglas and Deborah Belding of 13 Calmer Place Sept. 24 before the ZBA. The variance would change a side yard setback from the required 10 ft. to 2.5 ft. and a rear yard setback from the required 15 ft. to 2.5 ft. for placement of a shed 12 ft. by 16 ft. by 10 ft. 5 in. high. Deborah Belding said that they planned to move a pre-constructed shed from her property at 46 Greentree Dr. S. to behind her husband's garage at Calmer Place for additional storage. The hearing was closed without any public comment, and the application was approved unanimously.
Stewart's hearing continued
The ZBA public hearing for sign variances requested for the Stewart's Shop Corp. located at 3648 Albany Post Rd. location will be continued Oct. 22, since the applicants have to work on the conditions for their application with the planning board before going forward with the proposed sign variances.
Facebook Comments