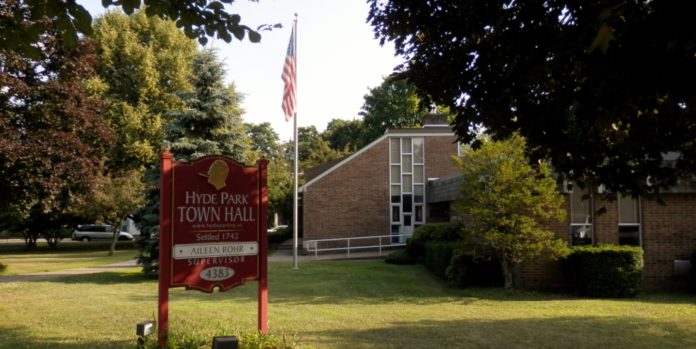 Haviland Plaza drainage questioned
John Lease, the owner of the Haviland Shopping Plaza at 870 Violet Ave., went before the planning board for a public hearing Oct. 1 on his application for a site plan modification, which would include uniform signage, new hardie board siding, a new roof, an added railing to the roof for aesthetic purposes, the addition of 4 dormers, and the replacement of a stone knee wall with a brick knee wall.
Board Chair Michael Dupree commented that the town zoning administrator would need to visit the site to take measurements to confirm that the total linear sq. footage of the property matches up with the maximum signage. Further discussion involved a letter from Julie Pizzarelli, the owner of the Rita's Italian Ice next door, claiming that issues with the plaza's drainage and flooding are affecting her property. The board agreed that town engineering consultant Pete Setaro should look at both properties to determine what needs to be done to clear up any issues. A special meeting was set for Oct. 8 at 6pm at town hall to discuss the drainage problems.
Sign permits approved
Sign permits for the following businesses were approved at the Oct. 1 planning board meeting:
Chestnut Petroleum/Mobil, 1110 Violet Ave.; Darby O'Gills, 3969 Albany Post Rd.; Park Beverage, 3969 Albany Post Rd.; Shelly's Deli, 481 Violet Ave.
Other business
A public hearing for Molt's Used Auto Parts scrap yard, at 92 Honeywell Ln., was held Oct. 1, and the requested lot line revision was approved unanimously by the board… A public hearing for Lands of Cire, 4185 Albany Post Rd., was closed with no comments Oct. 1, and a site plan extension was unanimously approved… A public hearing was closed Oct. 1 for River Ridge development, at the intersection between Rte. 9 and Hudson View Terrace, and a site plan amendment and extension for construction completion for two years were approved unanimously.
Facebook Comments