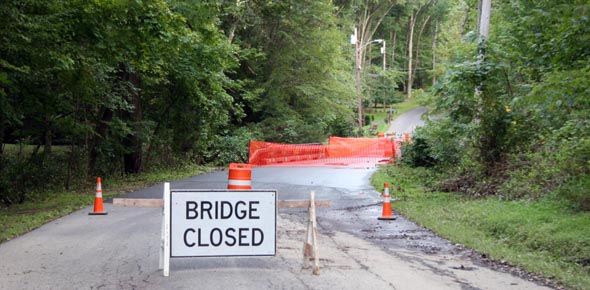 Despite widespread flooding and many inches of rain, the Red Hook roads and bridges fared well in comparison to neighboring towns according to Highway Superintendent Theresa Burke.
"Red Hook was lucky compared with its neighbors," suggested Superintendent Burke. Milan and Rhinebeck are facing roads and bridges with much more damage.
Currently, only Aspinwall Road is impassable because of the mandatory closure of the two bridges. The stone bridge near Manor Road and the wooden bridge further east on Aspinwall were both closed with the wooden bridge having completely disappeared under the Sawkill at one point.
"We weren't sure if [the wooden bridge] was still there," said Burke. "And at 1am Monday morning the water was flowing around the stone bridge."
According to Superintendent Burke, once the bridges have been closed because of the water levels, they must be inspected for damage by an engineer before they can be reopened. Engineers performed their initial inspections on Wednesday afternoon and are preparing a preliminary report on any damage. If no structural damage is found it may simply require repaving in the case of the wooden bridge.
But that may lead to another problem. With many communities facing similar tasks, a lack of asphalt, lumber and stone may further delay the repairs. Burke was unable to offer an accurate timetable for reopening without hearing from the engineers.
According to the Superintendent, costs related to the storm are being tracked closely in order to apply for FEMA disaster compensation.
The Red Hook School District is being kept apprised of the situation since it will have a significant effect on their bus routes.
Burke stated that her most important issue is safety. She urges residents to stay out of the areas around the bridges marked by the cones. There may be washouts – the ground may have been undermined by the water and could pose a safety risk.
For more videos and photos of the storm, click here.
Facebook Comments