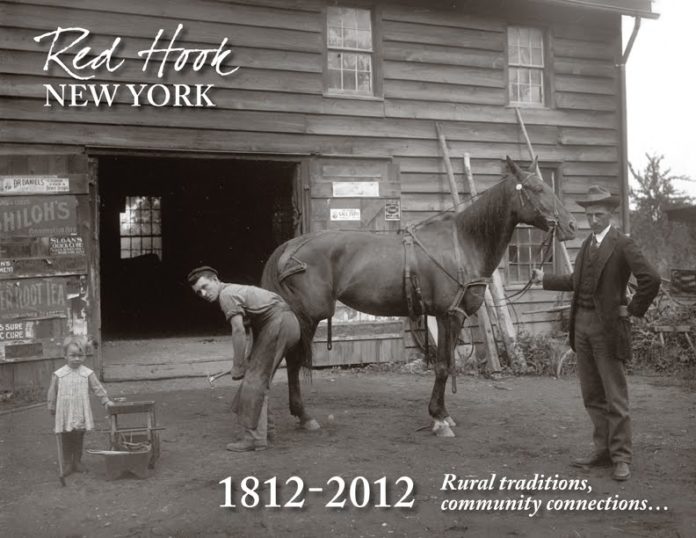 1812 was a banner year for Red Hook! By decree of the New York State legislature, Red Hook was split from Rhinebeck to become its own independent, self-governing township.
To begin marking that historic event, the 2012 Red Hook Bicentennial Celebration will be a featured element of this year's Hardscrabble Day festivities in the Village of Red Hook, Saturday, September 24, beginning at 10 a.m.
"Hardscrabble Day brings everyone together. It's perfect for celebrating our wonderful town's 200 years of rural traditions and community connections," says Loretta Campagna, chairperson of the Bicentennial Committee of the Egbert Benson Historical Society of Red Hook, the sponsoring organization. "There will be plenty to see, to try and to buy, including a Bicentennial Calendar filled with rare photos and little-known facts about Red Hook, and a commemorative key ring.
"Also, from 1 p.m. to 3 p.m. at the Elmendorph Inn, on North Broadway, people won't want to miss our special oral history event 'Hooked on Red Hook.' In two-minute recorded interviews, they can tell us why Red Hook is so special."
During Hardscrabble Day, volunteers will be available at three Bicentennial Booths to help visitors to learn more about Red Hook – yesterday and today, and purchase the 2012 Bicentennial calendar, key ring and other items of historic interest. The booths will be located in front of the Elmendorph Inn, Neko's Drugstore and the Village of Red Hook Information Center.
2012 Red Hook Bicentennial Celebration activities are scheduled to begin on Apple Blossom Day, May 12, 2012 and conclude on Hardscrabble Day, September 22.
Among the "must attend" events will be giant puppet-making workshops, a Community Day of old-time games, food and fun at Montgomery Place on July 14, a ticketed tour of ten historically important homes, buildings and grounds in Red Hook, Tivoli, Annandale, Barrytown and Upper Red Hook, a musical performance by acclaimed Broadway artists at the Bard College Fisher Center for the Performing Arts, an old-fashioned barn dance and, on August 11, a sunset concert on the banks of the Hudson by the West Point Band of the U.S. Military Academy.
Facebook Comments