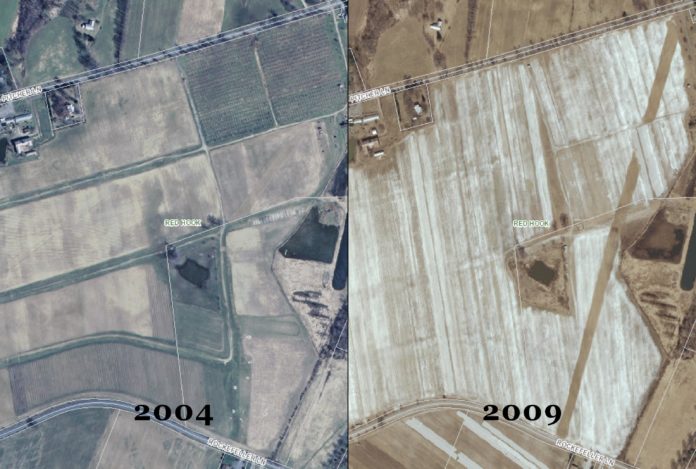 On Wednesday night, the Red Hook Zoning Board of Appeals (ZBA) will continue a public hearing on a request by Norman Greig for zoning variances that could lead to the continued operation of an airstrip on the properties between Pitcher and Rockefeller Lane.
The variances are required because the both ends of the airstrip are closer to the roads than required by zoning laws and one of the properties it crosses is less than the required 50 acres in size.
While technically the application is to facilitate a new installation, the airstrip is already in use although for exactly how long is in question.
According to minutes from the December meeting, Mr. Greig has claimed an airstrip has been in operation for 35 years. If so, it would be grandfathered in as a pre-existing use of the property and the variance applications would be moot. The fact that the airstrip has not always been in the same place may complicate matters.
However, as of the December meeting the town's zoning enforcement officer (ZEO) stated that he had not received any documentation to that effect. Mr. Greig claimed nobody had requested any and that, if so, he would have provided it including aerial photos of the farm over the years.
Neighbors have raised concerns about the noise, blowing debris and the effect on their property values if the airstrip is allowed to continue. According to the minutes, neighbor Linda Keeling has claimed that planes have landed at the airstrip to shop at the Greig Farm Market and that the airstrip is less than four years old.
Unless he is able to prove long-term operation, Greig will also need approval by the Town Board and a special permit from the Red Hook Planning Board if he receives the variances from the ZBA.
The ZBA will reconvene at Town Hall on Wednesday, February 8 at 7:30pm to continue the public hearing.
Facebook Comments