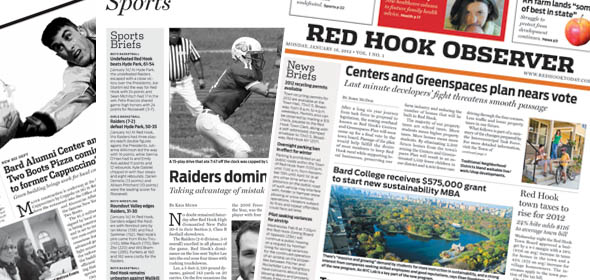 Kristofer Munn, the founder of Red Hook Today, has announced plans for a new local newspaper to be called the Red Hook Observer. Red Hook Today is the news and events web site that has been covering Red Hook since March 2011.
A year ago I created Red Hook Today, the news and events blog for the town of Red Hook and its villages. Serving as publisher, webmaster, editor, reporter and photographer, I have been able to cover many of the big events and happenings that make Red Hook special. From the Apple Blossom Festival to Hardscrabble Day, the Red Hook Winter Market to the launch of Red Hook CAN, Hurricane Irene to Red Hook High School football – Red Hook Today was there.

However, as a volunteer effort by one man I often felt that I missed nearly as much as I covered – the Red Hook region has even more stories to tell. I could only do so much, only be in so many places, only write so many stories. For Red Hook Today to continue to grow, it needs more reporters, more contributors, more photographers. Red Hook deserves more.

And so I am pleased to publicly announce the Spring 2012 launch of a new print publication – a micro-local newspaper called the Red Hook Observer dedicated to covering Red Hook, Milan and the two villages. The paper will be a free bi-weekly delivered to every home and business in Red Hook, Milan and northern Rhinebeck covering more than 5,600 homes and 550 businesses plus Bard College and free pickup locations in Germantown and Rhinebeck. It will physically reach more than 11,500 adults, it will be available online in digital form and the Red Hook Today web site will continue to serve as its online presence.

We are now seeking advertisers for the newspaper which will be a unique outlet for reaching potential customers in this area. Any payment for advertising made before April 1, 2012 will receive an additional 10% discount off the posted rates. Please visit www.rhobserver.com to learn more.
The Red Hook Observer will be appearing in Spring 2012.
Facebook Comments