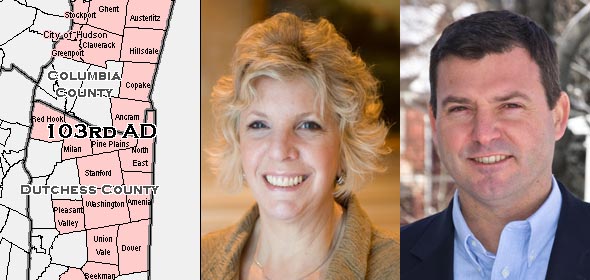 Democrat Didi Barrett has won the special election held March 20 for the state's 103rd Assembly District.
In a tally initially considered too close to call, the unofficial 154-vote margin had Barrett supporters upbeat on election night with perhaps 1,000 or more absentee ballots still to be counted. The next day, Barrett said she was confident that she would emerge victorious, while Republican Rich Wager sounded cautious tones. Barrett had won Red Hook and Milan by 10 percentage points.
Wager had a small lead on the Dutchess County machines, but when the Dutchess absentees ballots were counted and Barrett's overall lead increased, his campaign issued a statement conceding the race and congratulating his opponent. The Wager campaign had been counting on a strong showing in Dutchess.
By the time all the absentee ballots were counted in Columbia and Dutchess, Barrett's lead had nearly doubled.
"Now every vote has been counted and I am proud to officially announce that I have been elected by the people of the 103rd Assembly District to serve as their representative," Barrett said in a statement. "I look forward to getting to work on behalf of my constituents."
Barrett will serve as the representative for Red Hook, Milan and the rest of the 103rd Assembly District until year's end.
Facebook Comments