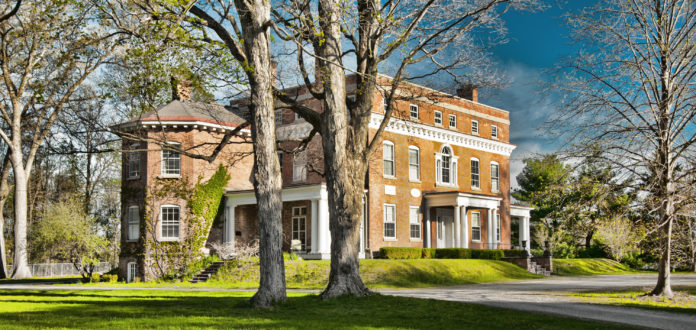 In 1785, the Elmendorph Inn at the corner of North Broadway and Cherry Street, in the village of Red Hook, was a busy stagecoach stop on what used to be a four-day New York City-to-Albany run. It was also a favorite gathering spot for farmers, travelers and townsfolk of the day.
At 10am on Sat. May 19, the old inn will be the registration center as well as the first of 11 "open doors" in a special Red Hook Bicentennial Heritage House & Barn Tour.
On this self-drive exploration of 250 years of the town's rich architectural history, participants will go from typical farmsteads of the Dutch era to artful reuses of early churches and industrial buildings to grand examples of meticulously restored historic houses.
With its iconic, steeply gabled stone house set behind ancient locust trees, the Heermance farm on West Kerley Corners Road will bring visitors close to the earliest days of Dutch and German settlement in Red Hook. Its interior hardware, exceptional paneling in the east room, steep stair and decorative banister, hand-hewn beams and fireplace all speak of domestic farm life in colonial America.
In Tivoli, visitors can stop at the former Trinity Church, now a residence, on North Broadway. Recently remodeled in great style, this building retains its original exterior appearance and is a fine example of an artfully reimagined community landmark. Just behind the church's stone wall is Red Hook's Civil War memorial, which records the names, dates and battles of the local men who fell in combat or otherwise died fighting for the Union.
Another "must" on the tour is Cedar Hill, a marvelous modern house built on the foundations of an 18th century gristmill at the upper falls of the Sawkill, in Annandale. Not to be outdone, Barrytown's incomparable Edgewater, perhaps the finest classical revival house in the country, will beckon with its beautiful gardens, sweeping views of the Hudson River just feet away and museum-quality collection of early American paintings and furniture.
Finally, the tour circles back to Red Hook village for a closing reception from 4:30 to 6pm at Maizeland, built about 1799 by General David Van Ness, a Revolutionary War officer, a postmaster and state legislator and the first town supervisor.
Admission to the Heritage Tour is $25 per person ($30 after May 13). Reservation forms are available at www.redhook200.org/events.
Facebook Comments