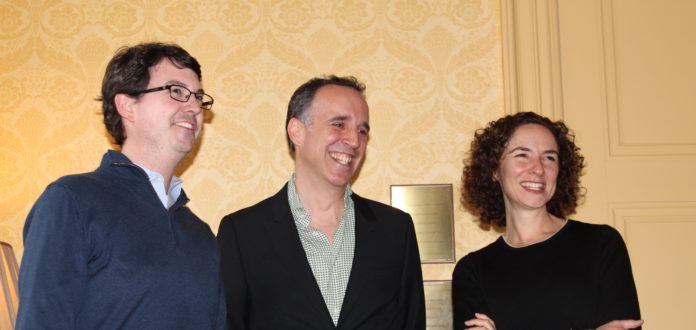 It may only be spring, but it's time to start fantasizing about all the delectable offerings the summer brings in the way of music, theater and sometimes musical theater.
Two of the most notable of the summer staples – Bard College's SummerScape Festival and Vassar College and New York Stage and Film's Powerhouse series – recently announced details of what's in store for Hudson Valley audiences.
Bard SummerScape 2012 will run from July 6 through Aug. 19, presenting seven weeks of opera, music, theater, dance, films, and cabaret. The festival's centerpiece, the 23rd annual Bard Music Festival, will be an in-depth survey of the music of Camille Saint-Saëns and his contemporaries. As in previous years, those 10 days (Aug. 10–19) will be filled not only with music, but with pre-concert lectures, panel discussions, and expert commentary. The 12 concerts offer an immersion in the music of Belle Époque France, with its opulence and emotional grandeur, presenting masterpieces from all genres of Saint-Saëns's body of work, including a rare concert performance of his grand opera "Henry VIII."
The resident American Symphony Orchestra, integral to the Bard Music Festival, prepares to turn 50 years old in the upcoming season. Leon Botstein, co-artistic director of the festival and soon to begin his 20th season as music director of the American Symphony, will conduct all three orchestral programs at the Richard B. Fisher Center for the Performing Arts. Choral programs will feature the Bard Festival Chorale directed by James Bagwell, while this year's roster of performers includes cellists Edward Arron, Zuill Bailey, and Sophie Shao; violinists Miranda Cuckson, Eugene Drucker, and Giora Schmidt; sopranos Ellie Dehn and Lori Guilbeau; the Horszowski Trio; pianists Anna Polonsky, Gilles Vonsattel, and Orion Weiss; and mezzo-soprano Rebecca Ringel.
SummerScape highlights include "The King in Spite of Himself," an opéra-comique about a reluctant ruler by Saint-Saëns's contemporary Emmanuel Chabrier; a production of Molière's inspired comedy "The Imaginary Invalid;" the French dance company Compagnie fêtes galantes; a unique and provocative film festival; and the always entertaining musical acts of the Spiegeltent.
Tickets for all Bard SummerScape events are now on sale to the public. Call the Fisher Center box office at 845-758-7900 or visit www.fishercenter.bard.edu.
On Thursday, April 26, Johanna Pfaelzer, artistic director of New York Stage and Film, Thomas Pearson, executive director of New York Stage and Film, and Edward Cheetham, producing director of the Powerhouse Program, discussed some of the details of the upcoming Powerhouse season at Vassar College.
"This is the 28th Powerhouse," said Pfaelzer. She went on to describe the "incredibly unusual" relationship the program has with artists like Beth Henley and John Patrick Shanley, who have had works in all stages of development produced at Powerhouse over the last 27 years.
Audiences at Powerhouse watch plays and musicals that are in the process of being created, and are asked to keep their impressions and thoughts off social media, creating a kind of incubation effect for the artists and performers. Only local theater critics are permitted to review a handful of shows.
"We invite the audience into a real, vulnerable part of the artist's process. It's a naked moment," Pfaelzer said.
Highlights from the season will include two fully staged Mainstage works: one by award-winning playwright Roberto Aguirre-Sacasa titled "Abigail/1702," and the other from Emmy-nominated writer Stephen Belber titled "The Power of Duff," directed by Peter DuBois.
The season starts on Friday, June 22 with the first Readings Festival, and performances continue through July 29. Subscriptions go on sale online May 16; single tickets are available online beginning June 1. Go to powerhouse.vassar.edu or call 845-437-7235 or 845-437-5599 for more information.
Facebook Comments