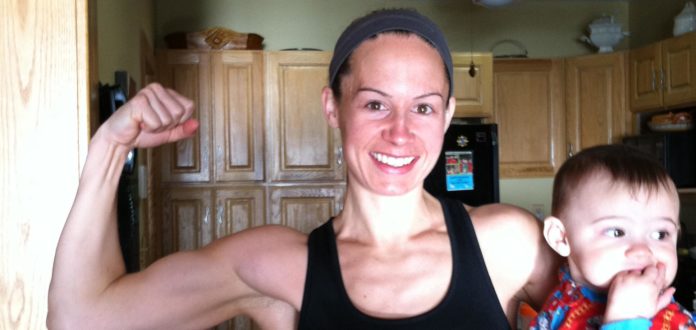 One Red Hook mom has made it her mission to inspire other moms to get into the best shape of their lives.
A former collegiate athlete, personal trainer and fitness competitor, Liz Cort recognized the daunting task of trying to achieve an optimal physique. After the birth of her first son, she decided that creating a support system for mothers like her would give her a better chance of sticking to a plan.
Liz enlisted the help of fellow trainer and nutrition counselor Megan Boyd to cater to a small group of women who were interested in staying in shape, without the added cost of childcare. Starting with just two sessions a week, the group used strollers, infant carriers, and local parks as handy tools for burning calories.
After a few months of training hard, Liz was excited to find she was pregnant again. During that time, her "mommy & baby boot camp" had grown to more than 65 participants. So had the requests for personal training. So Liz set a goal for herself: 11 months after the birth of her second son, she would reenter regional fitness competitions.
The road back to peak condition was challenging, especially with the 50-plus pounds gained in each of her pregnancies, but Liz was determined.
It started with a clean eating diet– no processed foods, only whole grains, and lots of fruits and veggies. Due to the popularity of boot camp, she was also teaching three days a week, in addition to her own daily 5am workouts.
On March 31, she was ready for her first competition in years, the NPC Metropolitan Show held in New York City.
With her was another Red Hook mom, Chantel Weckesser Schultz, whom she had encouraged along the way.
Both took the stage, to prove that having children doesn't mean you can't be in tip-top shape.
Two weeks later, both women participated in the Anation Championships in Albany.
That was when Liz decided that if she could do this, then any woman with discipline and guidance could do the same.
Liz said she was "frustrated at the lack of support for Mom's in the fitness world. Until you go through motherhood, it's difficult to understand what a woman's body goes through both physically and emotionally after having children.".
So she created Team Fit Mom, a full-service coaching site that allows moms to tap into her knowledge and expertise of the world of fitness competition.
"Whether you just had a baby or had one 15 years ago, Team Fit Mom is a supportive group of Mom' from all across the country that set goals, train, eat clean and support each other. Whatever your goal is, we will get you there! Trade your bottles for barbells!" Liz said.
The range of services include: nutrition, training plans, helping moms to select a show, make-up, hair, and posing techniques.
Liz knows that not every mom wants to compete, so Team Fit Mom also offers a photo shoot package with nationally published photographer, Dan Doyle, where moms can get into amazing shape and preserve their hard work with a photo spread.
In addition to her newest venture, Liz and her business partner Megan have decided to give their booming boot camp a proper space at the Chocolate Factory in Red Hook by opening a fitness studio geared toward both men and women: Fitness Fusion of the Hudson Valley.
Classes will be held 7 days a week by over a dozen certified trainers, who will also offer clean eating nutrition counseling, small group personal training, fitness competition seminars, and online training. In addition to challenging classes like willPower & Grace, Zumba, TRX Suspension, and crowd favorite, indoor/outdoor Boot camp, FFHV will feature 20 new, state-of-the-art cycling bikes, but Liz promises these aren't anything like traditional stationary bikes.
The RealRyder® Indoor Cycles turns; tilts and leans as you ride, providing the fluid sensation of an outdoor road bike. The studio will also feature "virtual rides" where riders can view various scenes on 2 large flat screen TV's behind the instructor as they tilt and turn visually through the Tour De France or wine trails of California.
The grand opening will be held June 1st with an open house from 4pm-8pm which will include healthy foods and beverages, a wine tasting and various raffle prizes including one 6 month unlimited class package. There will also be pumping music, demonstrations, free rides of the Real Ryder Cycles and some Zumba dance fun!
Rates, schedules, and online registration are available now on their website.
For more info on Team Fit Moms visit teamfitmom.com.
For info about the new studio visit fitnessfusionhv.com.
Facebook Comments