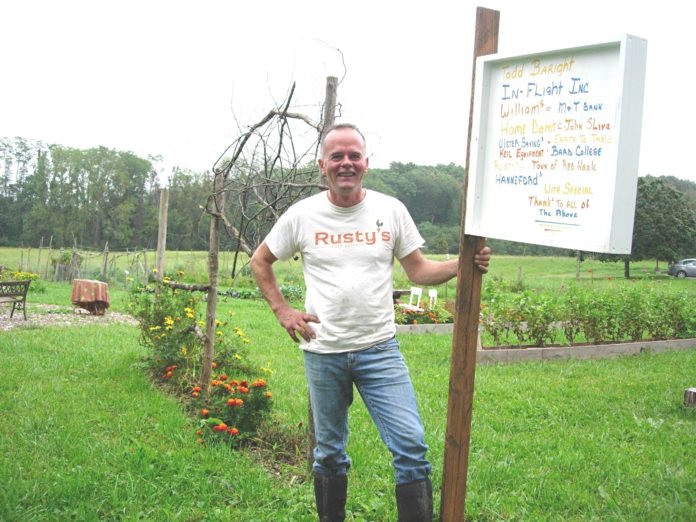 Terms such as "earth to table" and "grow local/think global" are, to the benefit of us all, becoming commonplace in our vocabulary. "Slow Food" would also fall in this category, except that it is also an international organization founded in 1986 as part of a grassroots movement now numbering thousands of members in more than150 countries. One of its many goals is to link the pleasure of food with a commitment to community and the environment.
Locally, Earth to Table (ETT) is an organization that, over the last six years, has been appearing with increasing regularity all over the Hudson Valley. Founder Joe Baldwin is a "Slow Food" chef and farmer, with decades of experience working in both the fields and the kitchen; promoting better lifestyle education and organic eating; and planting community gardens. He teaches that we can rejuvenate the current food system by localizing consumer growing and buying power in order to curb the increasing presence of this country's multi-billion-dollar agribusiness – and he is passionate about it.
ETT's Red Hook Community Garden was initially made possible in 2011 by local realtor Todd Baright's more than generous offer of nine acres of valuable land in the center of the village. Approximately 25 of the plowed plots were "rented" by individuals to sow as they pleased, and another section was farmed by volunteers to provide food for free community events, such as the regular Garden Wellness Dinners or the recent Red Hook High School Career Fair. As Joe explains in his mission statement, "I intend to grow food in the Community Garden to donate to the poor, to supply to local restaurants and businesses, and to use for educational or charitable purposes such as school cooking classes or holiday dinners for the needy. I want to teach people to eat well and, therefore, be and live well."
Joe and other members of ETT attend the monthly meetings of Red Hook Together, a compilation of many facets of Red Hook (government, education, culture, business, civic, etc.) who exchange ideas with representatives of Bard College to benefit the community as a whole. So it should come as no surprise to see the ETT wagon roll up to events promoting the Red Hook Bicentennial or the new Bard College Farm Garden, a student-run project begun this spring and inspired by Slow Food principles.
One of ETT's many goals is to make Red Hook the Stevia Capital of the world. Used as a natural sweetener since pre-Columbian times, the stevia plant does not raise blood sugar levels, has no calories, and inhibits the development of plaque in teeth. It also happens to grow extremely well from April to October in the Hudson Valley climate and soil. Joe ensures that a sufficient quantity is available, whether you want to plant it at home or stake out a plot in the Community Garden.
Since ETT is not a corporate entity, all its work is done by a small number of volunteers devoted to the mission of accessible, organic food and attainable healthy lifestyles. Support is needed and welcome in a variety of ways: hands-on work in the gardens, donations of gardening equipment, publicity ideas, or assistance at Wellness Dinners. Dollar donations to the Earth to Table Fund are tax-deductible and can be made at www.cfhvny.org. Contact Joe Baldwin directly at jbearthtotable@gmail.com or 845-723-4552, or 845-635-9388.
Facebook Comments