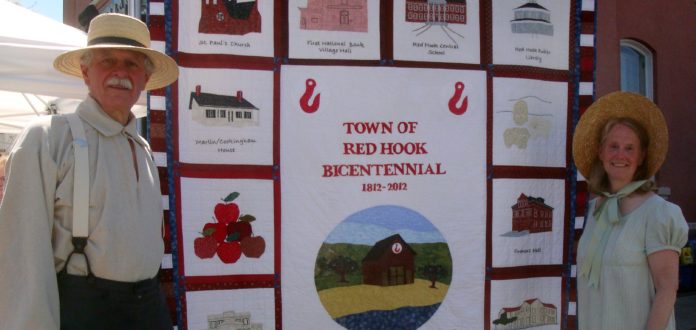 It has been a long time in the making, but Red Hook's bicentennial celebration is officially underway, after a rousing kickoff during the Apple Blossom Festival on May 12.
The event, held in the municipal lot alongside Red Hook Village Hall, featured speeches by representatives from all levels of government, the unveiling of the bicentennial quilt and a very special appearance by historic figure Cornelius Elmendorph, who returned from a 200-year absence to say a few words to the town on its 200th anniversary of separating from Rhinebeck.
"They say that the more things change, the more they stay the same", said Elmendorph, who despite the period-appropriate clothing looked remarkably like Christopher Klose, Red Hook Bicentennial Committee member and vice president of the Egbert Benson Historical Society. "In Red Hook, we have our land, which is surpassingly beautiful. We have our people, who are the best in the world. With the river, we are all bound together in place and in time. It has been, and is, a privilege to be here."
Elmendorph, who in the late 1700s built the Stissing House in Pine Plains along with the Red Hook Hotel, then told the festival audience he would return for the tricentennial celebration.
Diana Louie, of the Village Fabric Shoppe, led the dramatic unveiling of the bicentennial quilt. The quilt contains patches that depict several historic Red Hook buildings. In order to design likenesses for buildings that are no longer standing, the historical society was recruited to dig up antique photographs and drawings. The quilt will be displayed at various bicentennial events and eventually find a home in the Red Hook Town Hall.
County Executive Marc Molinaro noted that Red Hook is and has always been a leader in Dutchess County. "The Town of Red Hook is looked at as a leader in farmland protection, in land use, in community celebrations and activity," he said. "And for 200 years, it has continued to shine and to provide a great place to work and to raise a family."
Red Hook Town Supervisor Sue Crane thanked the Rotary Club for their sponsorship of the festival and the kickoff celebration. "I can't tell you how proud I am to be a part of this town and the supervisor of this town and to have friends here who mean so much to me. I really want to thank the parents and the children here for coming out and having this great community day. Congratulations to us all," said Crane.
Village Mayor Ed Blundell focused on the community effort behind Apple Blossom and the bicentennial. "Loretta Campagna is amazing," he said. "About a year and a half ago, she started this sequence of meetings at the Elmendorph [Inn] when it seemed like 2012 was a long way away. We are so glad that Loretta and her husband, Frank, and the core group got going and that the Rotary and all different folks joined in. It is a truly wonderful thing to see here in Red Hook what volunteers can do."
"This is a wonderful occasion and a glorious day," said State Senator Steve Saland. Forgoing a prepared statement, due to a forgotten pair of reading glasses, the senator proclaimed that "what I have witnessed in Red Hook is an evolution. A Town that has managed to maintain its roots and yet been with the times without losing its traditions."
U.S. Representative Chris Gibson said that all the towns in the 20th Congressional District were looking to Red Hook on the occasion of its bicentennial. He highlighted the contributions that young farmers made to Red Hook and said the impact of young people getting involved in agriculture would have national implications.
Bicentennial events will be held in Red Hook until Hardscrabble Day in September. A full list can be found in the informational mailing sent to all residents and at the website www.redhook200.org.
Facebook Comments