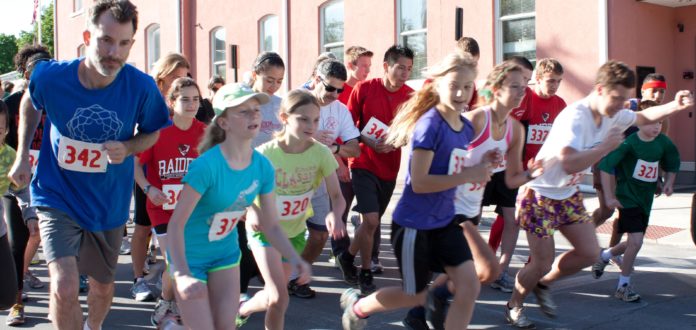 While many local students are eager to spend the day at Red Hook's annual Apple Blossom Festival, very few of them started as early as Declan and Fiona Dwyer-McNulty. By 7:30am on May 12, the brother-sister team, along with Red Hook Rotary members and high school volunteers, had finished setting up the winding course and were registering entrants in the first-ever Apple Blossom charity fun run.
Around 50 participants ran the 3.5 mile race, which kicked off at 8am. All of the proceeds from entry fees and sponsorships are set to be donated to Drop in the Bucket, a California-based non-profit organization that constructs wells and sewer systems at schools in sub-Saharan Africa.
Laying out cones for the finish line next to Village Hall, Declan credited his sister, and fellow organizer, Fiona, with the idea for the fundraiser. "She organized the charity and fundraising aspects, and I organized the race," he said. Declan also thanked members of the Rotary and the Rotary's High School Interact Club for helping to make the event possible. A service-oriented high school division of the Rotary, the Interact Club has around 20 members.
An avid runner himself, Declan is a member of the high school cross country and track teams, which probably helped him in his first-ever organizational role. Jennifer Rankin, a staff member at Bard College's Center for Civic Engagement, was impressed by the high school student's accomplishment. Rankin is no stranger to organizing races — she administrates the annual Bard College–Red Hook Education Foundation 5k fundraiser. "The course was great, it was a lot of fun and the whole event was very well organized," she said after completing the race along with her husband, Bard chemistry professor Swapan Jain.
After the race, Declan and Fiona took to the stage to hand out awards for each age group and to say a few words about the charity the event was benefiting. "The reason we chose 3.5 miles as the length for this race is because that is the average distance a woman in sub-Saharan Africa has to walk in order to have accesses to drinking water," Fiona told the crowd. She had also set up an information station on water scarcity and how it impacts peoples' lives in developing nations.
More information about Drop in the Bucket can be found on its website at www.dropinthebucket.org.
Facebook Comments