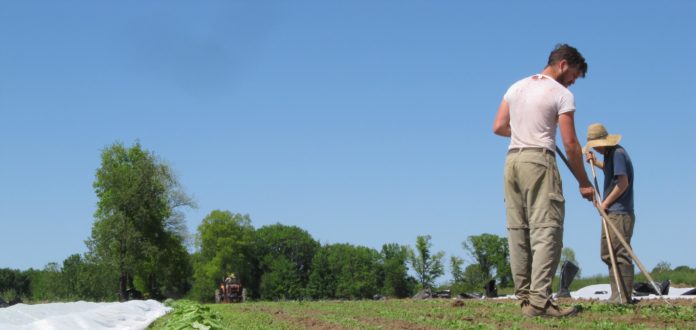 Leaving the house 10 minutes late in damp jeans and rubber boots, hands crusted in the sweet smell of horse bedding co-mingled with a bit of manure, I abandon the dripping barnyard, grab my pair of rain pants, and head off the farm, driving 15 minutes through the backroads of Milan and north on 9, eager to meet the folks at Hearty Roots Farm. I contemplate if I should have tried to appear more professional for my reporting role. But my profession is that of farmer, and I seem to manage this style —functionally unkempt, pockets full of hardware and hay chaff, boots adorned with mud — with something close to grace, I can only hope.
Though I have known of Hearty Roots for some years now—as long as I have farmed in the Hudson Valley—I have never visited the farm and was pleased to now have the opportunity.
Hearty Roots, located on Pitcher Lane across from Gigi's Market, is a Community Supported Agriculture vegetable farm in its ninth year of providing ecologically grown produce to the community of Red Hook.
I find my path down a well-kept dirt road, and join three of the Hearty Roots farmers in the unheated hoop house—a simple structure of arced poles to which translucent plastic is held taut, which establishes the ideal environment to grow healthy plant seedlings. Inside, the patter of rain sounds much denser than reality, prompting a cozy atmosphere of comradery, tenderness, and ease.
Inside, in a delicate and methodical dance, Ben Shute, Jordan Schmidt and Sarah Monteiro work to seed chard and melons. Their hands easily know the task before them—filling trays with rich black potting soil emptied from plastic sacks and passing the full trays onto the next person, who will place seeds into each cell and cover with soil. Their movements are steady and fluid, having been practiced countless times over many years—counting trays, following systems, moving and working with experience and comfort. The task is filled with more routine than magic, or perhaps a bit of both. It is the rich interplay of being a farmer—going through motions that have been rehearsed daily and seasonally, in-tune with the routine of each day and year, yet finding within these rituals the blessed spontaneity of newness, of change, of the unexpected.
Hearty Roots is full of newness and change this season with the purchase of land just over the border into Clermont, where HR will begin growing crops for 2013. After years of farming on rented land, HR will use the new land purchase to make changes and additions that will reflect a commitment to the long-term—diversifying the farm and adding infrastructure. Thus, with the anchor of a permanent land base to work from, the farmers of HR will begin to put energy into building soil fertility in a location where they will be able to reap the benefits for years, and generations, to come. In the new freedoms that a permanent home will offer, the farmers will begin to diversify the farm—incorporating animals, such as the flock of Araucana chicks who joined the farm in early spring. The introduction of animals will ecologically benefit the farm—adding fertility while also allowing HR to offer more to their members—such as egg shares in addition to vegetable shares.
HR's move to a permanent land base reflects the trend in the Tivoli-Red Hook-Milan area of emerging farmers putting down roots within the community—connecting to a piece of land, and farming fully, in mind, heart, and body. Sarah reflected on this trend, acknowledging the multitude of small farming ventures taking hold in this community, and the sense of collaboration and sharing that connects these farms to one another. The connections fostered between farmers—the sharing of ideas, advice, and equipment—points to the rebirth of a strong agricultural community in and around Red Hook and throughout the Hudson Valley.
We are blessed to live in the abundance of an agricultural-based community—farms coming alive, strengthening, and working to provide fresh, healthy food for the community in which they are an integral part. Jordan points out the gift farmers provide to this community: awesome and accessible food grown close to home , "People here should tap in," she says. Jordan acknowledges that a CSA may not be a natural extension for everyone—"you have to work it into your life… to make it part of the day to day." But the opportunities are nevertheless exciting for those who take part—offering fresh vegetables, a lively community, and a place to come out with your kids on Tuesday evenings and pick a bouquet of flowers.
Hearty Roots Farm is still accepting CSA members for this season—the way it works is you buy a share and share the produce available each week. Pick-ups start the first week of June and run for 22 weeks. Pick-up locations are in Kingston, Woodstock, and on the farm in Red Hook (on Tuesday afternoons from 3-7 pm). For more information, visit www.heartyroots.com or join Hearty Roots farmers for their Community Leek Planting on Sunday, June 10.
Lisa Miskelly is a co-farmer at Great Song Farm CSA in Milan.
Facebook Comments