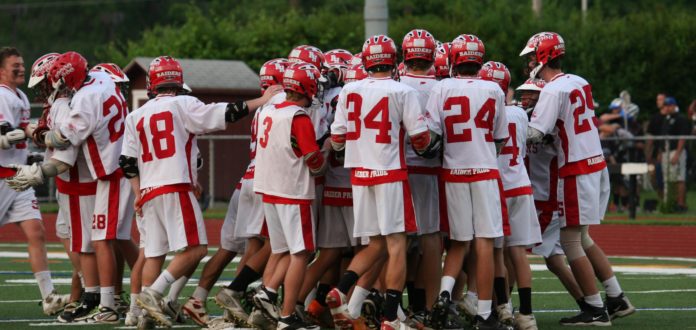 Championship season has begun. Both Red Hook's girls and boys varsity lacrosse squads won their respective Section 9 Division C championships and will receive seeds in the Section 9 State lacrosse tournament.
It's the fifth straight championship for Red Hook boys lacrosse. The 14-5 win at Dietz Stadium friday night against Rondout came courtesy of attack player Onam Guerra, who had an unprecedented shooting night, scoring on seven of eight shots. Senior attack star Chandler Coons posted one goal on eight attempts, and Zach Charter scored twice. Tong Guerra, Pal Guerra, Connor Swanson, and Taylor Lee also found the back of the net. Rondout couldn't find the sweet spot, relying on attack player Arthur Higby – who scored on only two of 11 shots. Rondout would only crack Red Hook's 10-point lead in the fourth quarter, scoring four of their five in the period.
It was a big season for 11-3 Rondout, who fought their way to the No. 2 seed in the Division C tournament. But Rich Saulino's offensive powerhouse of a varsity squad wasn't about to give up its stranglehold on Division C just yet.
Neither were the girls.
Yvonne Turchetti's varsity girls squad has captured its second championship in two years, after receiving the automatic #1 seed in the Section 9 Division C tournament. After a couple of tense, wild regular season meetings, not to mention Red Hook's nail-biter victory over Burke Catholic in the Division C final, Red Hook finally had Burke's number. Red Hook held Burke scoreless Thursday night for most of the first half and won by a score of 11-7. Caitlin Swanson led Red Hook in scoring with three goals.
Girls varsity was to face Rye in the opening leg of the state tournament on May 30. There's no love lost between Red Hook and Rye, who handed Red's varsity boys squad a disastrous 18-1 loss in the first round of the 2008 state tournament.
It doesn't end at lacrosse though. Championship season is still on, and both Red Hook's baseball and softball teams should be considered serious Section 9 contenders. Red Hook baseball is the #6 seed in the Section 9 Class A tournament, and play at #4 Wallkill in the opening leg of the tournament May 30 at 4pm; softball is the #4 seed, and will host #5 Port Jervis on May 29.
Facebook Comments