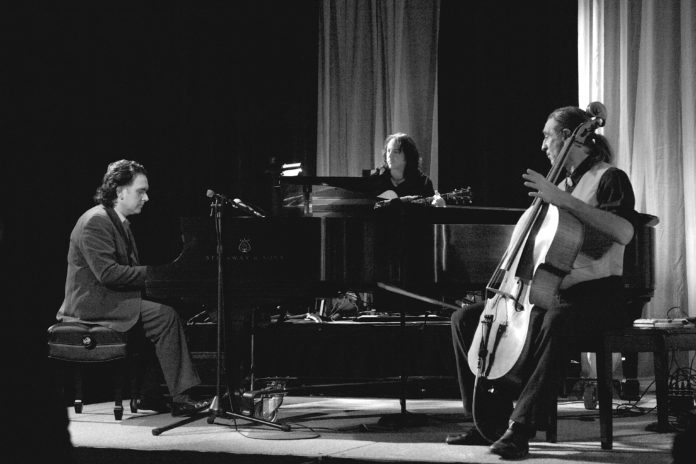 It may seem hard to believe that Peter Buffett, son of billionaire investor Warren Buffett, can be so down to earth. It turns out the truth is far more compelling.
Buffett will be performing at Bard College in the Richard B. Fisher Center for the Performing Arts on Saturday, June 9 at 8 pm in a concert titled "Life Is What You Make It: A Concert and Conversation with Peter Buffett." The multimedia event is part of the Strategies for a New Economy Conference presented by the New Economics Institute.
And, in a way, it's actually a homecoming of sorts for Buffett — he lives in Ulster County near Stone Ridge. "I'm looking forward to playing the area," he said. In the concert, Buffett mixes music, musings and audience interaction as he covers the overall themes from his best-selling book, "Life Is What You Make It."
Buffett, 54, is known as an Emmy Award-winning composer, musician, producer, philanthropist and author. His work includes the "Fire Dance" musical sequence from the film "Dances with Wolves" and the full score for "500 Nations," the eight-hour Emmy-awarded CBS miniseries produced by Kevin Costner. I asked which of the appellations is his favorite.
"I would say, in a sense, every one of them is a surprise," he replied. "When I was young, I never thought I could make a living as a composer. I never thought I'd write a book. They are all exciting because they've all been a wonderful surprise."
"But." he added, "music is my first love."
"Life Is What You Make It" is a departure for him. "For most of my lif,e I was behind the scenes," he said. "I never really performed at all. I wasn't in a band in high school." Buffett found that he had a story to tell, as the son of a famous man. "I just grew up in a pretty typical house in the Midwest. My parents loved me."
Buffett began by giving talks on his life and on the lessons passed down by his parents. "I realized it would resonate with people, about finding your path in life. It was just a talk basically, about how to think about raising your kids," he said. "That turned into a show, which turned into a book, developing over the course of a couple of years. I continue to develop it, adding and changing material, but it's been pretty consistent over the past few years."
One element that keeps Buffett on his toes is the audience participation aspect of the concert performance. "I take the conversation part (of the title) seriously," he said. "I take questions throughout the whole show. It's way more fun for me. I get to hear what's on the audience's mind. It keeps the show different every day."
Buffett hopes that people come away from his show thinking differently. "We should not be living our lives by some outside metric," he said. "We should be living our lives by our own definitions of success and happiness."
And he continues to be inspired by others. "I think the fact that people are starting to think about their own stories and their own value" is inspirational, he said. "People find similarities between themselves and how I was raised. They think my father was this famous guy, but I made my own way. More and more people are able to tell their story, due to technology, and that is inspiring. Instead of looking to celebrities, we're starting to hear from people who are real and have amazing stories."
"Life Is What You Make It: A Concert and Conversation with Peter Buffett"
Saturday, June 9 | 8pm
Richard B. Fisher Center for the Performing Arts, Bard College
Tickets: $25, general admission; $15, seniors and students. Free for conference attendees.
Fisher Center Box Office: 845-758-7900
Facebook Comments