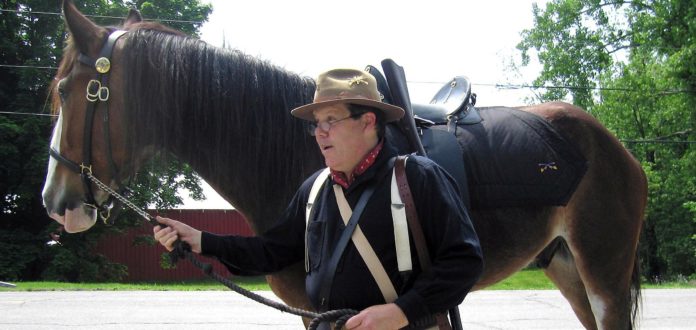 Perfectly sunny, warm weather helped keep Milan's Memorial Day observances both reverent and entertaining.
Hosted by the Milan Veterans' Committee on Sunday, May 27, the parade, music, speeches, and the tribute to Rough Rider and former Milan resident Jesse Langdon were so well-organized that it was hard to believe that this was actually Milan's second annual Memorial Day Parade.
As the marching band and the military men and the politicians and the energetic citizens – and a large horse – assembled on Tribune Lane, about a half-mile east of the Wilcox Memorial Town Hall on Route 199, Grand Marshall Aldo Tambini relaxed in a bright yellow Mustang. Tambini served in the Army Air Corps from 1942-1945, training the jumpers. "I joined right after high school. I just went home and told my mother," he recalled.
At noon, traffic on Route 199 was halted briefly as the parade began marching west until all had entered Wilcox Circle. Sergeant Major Tim Williams, who organized the day's events, addressed the assemblage first. Following were a solemn prayer, the singing of "God Bless America," and then the tribute to very special veteran Langdon.
John LaBarre is a Spanish-American War enthusiast, and dressed in a soldier's uniform of that era, he told the crowd about. Langdon, who was one of Teddy Roosevelt's "Rough Riders." It turns out that Langdon was also a memorable character as a civilian. Town Supervisor Bill Gallagher offered some personal recollections of his former Milan neighbor and then added, "This town has not changed much since those days, and that's due to the great people who live here."
County Executive Marc Molinaro emphasized in his speech that this was not a day about politics, and he recognized the presence of County Legislator Joel Tyner and Assemblywoman Didi Barrett.
After another musical selection, Sergeant Major Williams read the moving poem, "Break the News to Mother," written in 1898. The official activities ended with the American flag being lowered to half-mast. Later in the day, a wreath was to be placed on Mr. Langdon's grave.
Organizer Williams, a 30-year Marine veteran and now a Milan resident, summed it up this way: "The message we try to give about Memorial Day is that it is about the veterans and their families. While we remember our fallen veterans, folks should also remember those who give service on a daily basis, such as First Responders. See a vet, thank a vet… and their families."
Facebook Comments