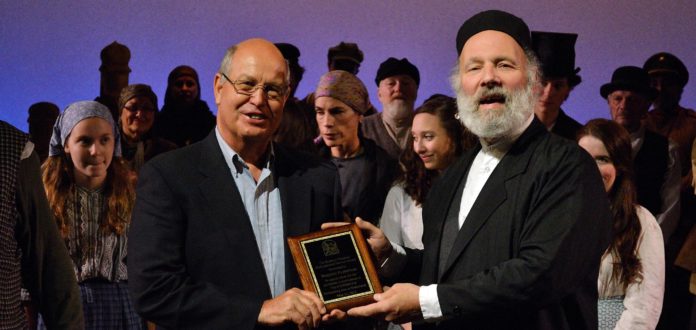 The CENTER for Performing Arts at Rhinebeck has inaugurated an award for distinguished service to the organization, to be given to a non-board member for outstanding contributions to The CENTER across a broad range, including artistic development, community relations and CENTER governance.
The first award was presented May 20 to Rodney Plimpton, who spent most of his business career leading corporate planning retreats for senior executives in Fortune 500 corporations and in some non-profits.
He and his wife, Geri, moved to Red Hook in November 2010 to be closer to family, and Rodney came to The CENTER the way most people do—he was a member of the cast of "Robin Hood " last spring. His next exposure was during the flooding of Irene, when he, like so many others, saw the devastation and made a contribution. He also made contact with Andy Weintraub, The CENTER's president, and suggested that he could bring his expertise to bear on the way The CENTER runs.
Thus began an intensive, months-long involvement in all of The CENTER's policies and practices. On a pro-bono basis, Rodney conducted extensive interviews with board members and staff, and planned and executed a board retreat. This has led to a reinvigorated board and staff and, most important, a new way of operating for The CENTER.
Rodney has already done so much for The CENTER that the board decided to call the award The Rodney Plimpton Distinguished Service Award (and will be affectionately referred to as The Rodney). Rodney's name will appear on a perpetual plaque that will hang in The CENTER lobby.
Facebook Comments