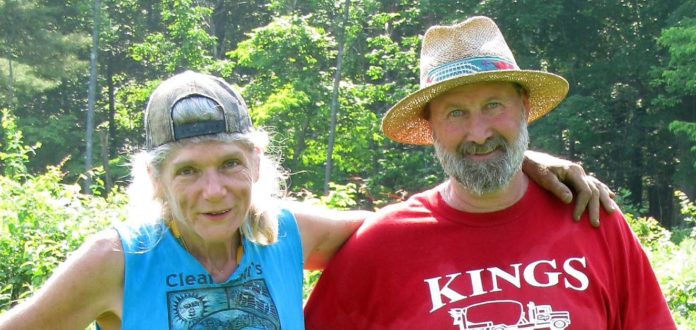 Red Hook Farm may not be a conventional commercial venture, but it illustrates well the great variety of farms housed in our community and the generous offerings that farms bring to those around them.
The majority of the produce grown at Red Hook Farm, which is actually just across the border in Milan, is not sold at a farmer's market or through CSA, but is donated, primarily to the Franciscan Community of Graymoor in Garrison, N.Y. Graymoor runs programing to support the homeless, people living with HIV/AIDS, and people recovering from addictions. The farm donates upwards of 400 pounds of produce each week to feed the men living in Graymoor's St. Christopher's Inn, which serves as a temporary home to 1,200 recovering addicts a year.
Ethel and Tom Barone have spent the last 12 years farming these 34 acres, land that had not been farmed since the '60s. As I stand marveling at the beauty surrounding me, Tom's voice carries to me from where he trellises tomatoes, telling me that this property was all forested when they first began farming here—clearing trees, pulling out stumps, cutting through roots, and removing rocks. Standing in the midst of this wonderland, sinking my hands into the loose soil, it is hard to imagine these verdant vegetable and flower beds as deep forest and overgrown apple orchards only 12 years ago.
With the occasional volunteer help, Tom and Ethel manage a plentiful garden—raised beds of annuals and perennials, flowers and vegetables, fruit trees and berries. The farm is a tapestry of color, orderliness, and flair—a thriving landscape that appears to be at the peak of health, fertility, and abundance.
Tom walks me through the garden—the arced beds of full lettuce heads, tall pea plants with quaint white flowers readying to become sweet snap peas, and thick green stalks of garlic. A large portion of the vegetable space is devoted to garlic—strong-looking plants that are starting to send up their scapes, the curlicue flower bud of the garlic plant, which is harvested as a tasty early-summer precursor to the garlic bulb itself. We find Ethel hand-hilling potatoes, the plants already knee-high, and then re-laying the drip irrigation on top of the newly hilled bed. Ethel and Tom often have some of the earliest potatoes—they plant them early, not afraid of a late frost, because "if the roots are viable—the plants will recover." But these plants seem not to have suffered any frost damage, showing a bright green color from stalk to tip.
Ethel speaks adamantly about not spraying anything on any of their produce, because they are growing food mainly to feed those who most need the healing and rehabilitative nutritional offerings of clean produce.
Speaking with Ethel, it is difficult not to want to write down everything that comes out of her mouth; she is a goldmine of genius thoughts, words flooding out of her illustrate her life, her work, her passion. She has a kinetic energy and a full, voluptuous laugh that echoes across the farm. She tells me the secret of clearing trees, roots, and rocks to start a vegetable farm: "If you want to farm, you have to be a hyperactive maniac." But for Ethel, farming offers more than hyperactivity—there is also the joyousness of each day. "Our celebrations are not traditional holidays—our celebrations are 'Ah! The garlic scapes are up… the peas are flowering… the first tomatoes,'" she says.
Ethel recalls growing up in Brooklyn in the 1960s; she paints a vivid picture of herself as a young child—eating apples, and then desperately saving the seeds to plant in a Dixie cup, even with nowhere to plant a tree were one to grow. Growing plants was in her blood; she recalls her first experience putting a tree into the ground—her strong hands, the silvery-brown color of dirt and tools, mime the process of holding a tree's root ball and, with fastidious love, placing it within the earth—growing something that will live longer than you.
Ethel has lived several lifetimes of experience—as a foster mother, a respiratory therapist, and she recalls "quitting 100 desk-jobs before landing a nice outdoor job." Farming is a career in which she and Tom undoubtedly thrive in body, mind, and spirit. "We want to play in the dirt," she says, "to get something done that we can see." Speaking of the tenacity with which she lives her life, Ethel offers a gem of insight, "You don't reach your plateau unless you fail—that's how you know you got there… just don't give up."
In addition to donating produce, Tom and Ethel sell vegetables to various local restaurants, such as Murray's in Tivoli. Their farmstand, at 149 North Road, is also open to the public all day on Saturdays, where they sell vegetables, honey, and eggs. Some greens are grown in beds at the farmstand so that lettuce heads can be harvested to order, at the "absolute peak of freshness," Tom says.
Facebook Comments