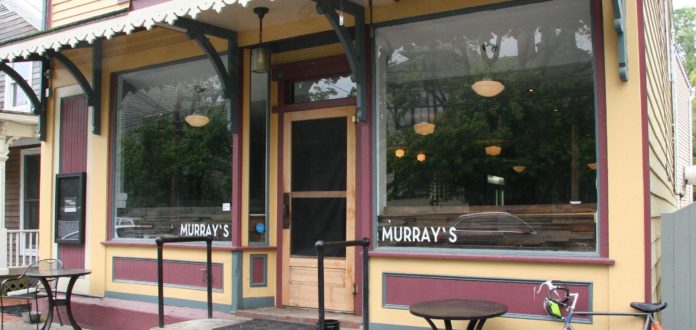 Despite the recent Tivoli Planning Board determination that Murray's Café could not stay open later than 10pm, owners Jake Stortini and Jesse Feldmus are still planning on opening an outdoor dining area in the rear of the establishment. Stortini and Feldmus went before the planning board again on May 21 to hammer out additional details and hear public comment.
The main focus of the discussion centered on the lighting and music proposals for the outdoor dining area. Members of the board and Murray's neighbor David Cleaveland expressed concerns over the brightness and directionality of the outdoor lighting. Bright lighting, they argued, might negatively affect neighbors if it was visible from windows facing the property.
Stortini and Feldmus said the lighting plan currently only calls for soft and shaded lighting, with spotlites in trees and tables lit by candles. The majority of the floor lighting is to be provided by ground-level shaded solar lights, similar to those used on home walkways.
They also said that soft, tasteful lighting was a priority for them and, because of that, they will be replacing the current back stairway lighting, which they deem too bright.
A substantial amount of discussion was also devoted to the volume of music planned in the dining area. Murray's proposed using low-wattage in-ground speakers, for the purpose of playing recorded background music that, the owners said, would not overpower diners' conversations.
However, Karen Cleveland and Anne Moore of Feroe Avenue wanted the board to consider placing specific restrictions on music at the property, so that any future owners of the property would be bound by them. Both residents said that they have been negatively affected by noise from the Black Swan pub and could not deal with another venue making a similar amount of noise.
The best way of creating such restrictions was not immediately clear to the board. However, the board members finally accepted a resolution that specified: the decibel level of allowed noise would be determined by the village noise ordinance, but "should not be heard through a closed window;" and the music must end by closing time.
Facebook Comments