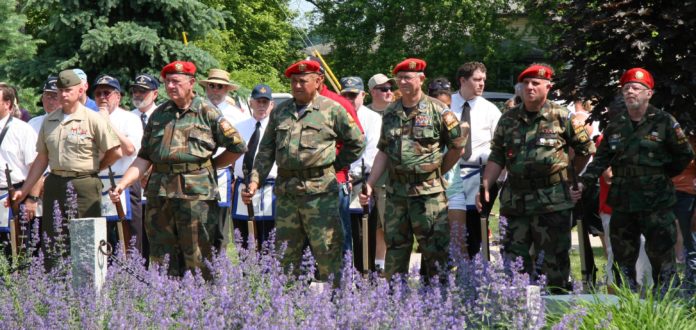 In one of the keystone events of the year, hundreds of Red Hook residents turned out to wave and applaud — and sweat — as the town celebrated Memorial Day.
This year's ceremony included the unveiling of two new commemorative plaques, with the names of 234 Red Hook residents who served in Korea and 199 who served in Vietnam. There was also a rifle volley by re-enactors commemorating the 150th anniversary of the start of the Civil War.
The day, more fit for August than May, began with a lively parade from the high school through the traffic light up Route 9 to Memorial Park. At the head of the parade marched 15 members of the Veterans of Foreign Wars (VFW) Post #7765. Not far behind were eight Civil War re-enactors sweltering in their wool uniforms under the hot sun.
Following them were local elected officials, the Masons and more than 60 members of the Red Hook High School band making rousing music along the way. From the Boy Scouts and Girl Scouts to the Red Hook Soccer Club and the Red Hook and Tivoli Fire Companies, all marched with pride for this Memorial Day parade.
At Memorial Park, with the crowds huddling under shade trees as the temperature slowly climbed toward 90 degrees, local officials paid tribute to the fallen.
Red Hook Village Mayor Ed Blundell spoke of the sacrifice of all the local veterans. "They moved heaven and earth in extreme situations for us," said Blundell. "They did it for us. Today, we should stand here and look around at our community and be proud."
And Red Hook Town Supervisor Sue Crane said, "Every Memorial Day, we're inspired to gather together to pay tribute and respect to the memory of our fallen servicemen and women…. Today we treat this place as sacred ground."
The roll call of the deceased followed: the name of each of the 31 armed services members killed in the line of duty was read aloud as a flag was placed in their honor.
For more photos from the parade and ceremony, visit Red Hook Today on Facebook here.
Facebook Comments