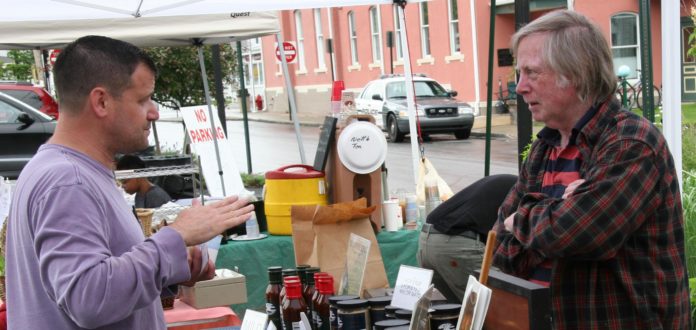 The dark rain clouds loitered overhead and eventually delivered on their promise on a wet Saturday morning, but the damp weather and intermittent drizzle were not enough to stop customers from visiting the new Red Hook Farmers' Market on opening day.
Louise Rose, owner of Table and Talent and the organizer of the market, was pleased with the turnout on June 9 and the reaction from village residents.
"Village people are coming in and saying, 'We've been wanting something like this!'" Rose said. While the weather was not ideal, Rose said the vendors were pleased with the results.
Rich Biezynski of Northwind Farms was upbeat about the market after selling out of a lot of his products.
"I see how well the Red Hook Winter Market did and I see how it brought so many customers from different areas," said Biezynski. "So that's an important part; we need to get people in the village. We'll see how this works and if it doesn't work, it can end."
Tom Greene of Tom's Heritage Baked Goods and Jams was also feeling good about opening day. "It's going very, very well; considering the weather, we did not expect as big a crowd as we got," said Greene, who sold out many of his jams and baked goods. "It's turned out really well and I think people see now that it's really going to be a benefit to the village on the weekends."
The Red Hook Farmers' Market with 16 vendors selling everything from fruits and vegetables to local chicken, beef, cheeses, preserves and more_is scheduled from 10am to 2pm in the Village municipal lot every Saturday until the end of September, except for Hardscrabble Day. Live music will be performed from 11am until 1pm.
Facebook Comments