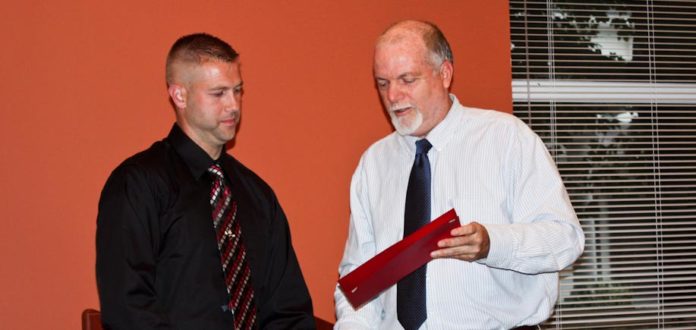 Red Hook Police Officer Kevin VanWagner is leaving the police department in order to take a full-time position with the City of Poughkeepsie police department. VanWagner had been with the village police force for nearly five years.
The personnel change was announced at the June 4 Village Trustee meeting. The police administration and the trustees expressed regret at the loss of an experienced officer but praised VanWagner for his work.
"We all want to thank you for your dedicated years of service to Red Hook," said Deputy Mayor Brent Kovalchik. "We are like a family here and it is always sad to see someone leave, but it is for the best."
Trustee David Seymour also praised VanWagner, saying "For the years you and I have known each other, you have done one heck of a job. You really have."
VanWagner received a certificate from the mayor, and a commendation from Police Chief James Truitt.
VanWagner's spot will be fill by elevating Officer Travis Sterritt to full-time status. The police department currently maintains only one full-time officer position along with that of sergeant. Sterritt has already been working 40-hour weeks under a special exemption allowing part-time classification beyond the normal 20-hour limit.
Truitt noted that while it is technically more cost-effective to cover gaps in service with multiple part-time officers, because of a full-time officer's benefits package, doing so would have greatly impacted service. Sergeant Patrick Hildenbrand explained that full-time officers are more effective at following up with cases and residents. The larger the part -time staff, the larger the amount of extra coordination and communication needed to make sure the on-duty shift knows every detail of the reports, cases and patrols they are working on, he said.
Sterritt has passed his civil service qualification exam and is the only officer currently on the force with the credentials to move into the full-time spot.
Facebook Comments