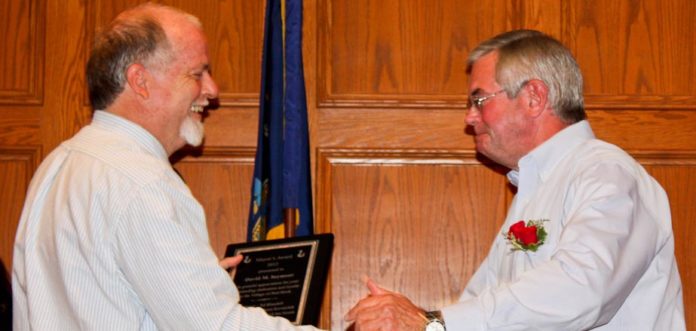 Red Hook Village Trustee David M. Seymour, who has resigned to move to Texas, was presented with the 2012 Mayors Award when he attended his last official board meeting on June 4.
The meeting was a bitter-sweet parting for those who have known Seymour during his more than 10-year tenure in local government, which included positions on the Tivoli Board of Trustees, a term in the County Legislature and a long stint on the Village of Red Hook Board of Trustees. He is especially noted for his involvement in the beginnings of the Tree Committee and the Village Green Committee and for his service on the Inter-municipal Committee.
"For those of us who have known him, for the last few years he has been a key player. Even before that, he would put in 30 or 40 hours a week. He has done incredible work here," said Village Mayor Ed Blundell. "It's a bittersweet thing. We have been interviewing people to replace him, but, quite frankly, you can't replace Seymour."
The mayor, on behalf of the board and the residents of the village, presented Seymour with the 2012 Mayors Award. The newly created award was inscribed with the words: "In grateful appreciation for your outstanding dedication and loyalty to the Town of Red Hook."
County Executive Marc Molinaro was present at the meeting to see Seymour off. Seymour served as a Tivoli Village Trustee during Molinaro's term as mayor and went on to fill Molinaro's seat in the County Legislature.
"Over the course of his service to this community, David Seymour has had an indelible and profound impact on the life of this community," Molinaro said. "He has always pushed us to do better. There is not a corner, sidewalk or neighborhood that has not improved or benefited from his forward-thinking as a village trustee. It's the David Seymours of Dutchess County that improve the quality and character of life in our shared community. You have made an impact in this community, in the way it does business and improved its quality of life."
Molinaro then signed an executive order declaring June 5 to be David M Seymour Day.
At the close of the meeting, Seymour reflected on his time with the board of trustees. "I don't know whether the village residents appreciate it or not, but this is a very hard-working board and we have a tremendous amount of talent on it," he said. "It's going to be tough for me to leave. I just want to say, not only to the board but to the residents of this community, thank you. It has been a pleasure to serve you and I mean that with all my heart."
Facebook Comments