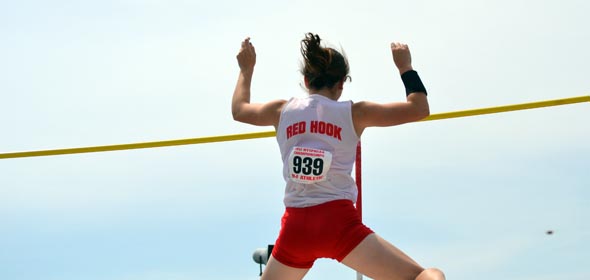 Red Hook's very own Grace Weisbecker is the 2012 New York State Division II pole vaulting champion, after winning a gold medal at the New York State Public High School Athletic Association's track and field championships on June 8.
Red Hook's Girls Track and Field coach Kim Goldhirsch was understandably proud of her star athlete.
"Incredible news…. She is the first Red Hook student to ever finish as a state champion in track and field, male or female," Goldhirsch said.
Grace's gold medal performance at Cicero-North Syracuse High was cinched with a jump of 11 feet 3 inches on her second attempt, made even more impressive by the fact that she had never jumped higher than 10 feet 3 inches in competition. The junior could not have picked a better time or place to shatter her personal best, and the Red Hook school record, by a full foot.
One of Red Hook's top hurdlers as well, Grace is often competing in the 100 and 400 hurdles at the meets. But at the state championship it was all about the pole vault.
Grace told the Daily Freeman after the event: "Everything just clicked for me…. I think I was a lot calmer today than at other meets because I wasn't running around to other events…. I was able to focus completely on the pole vault."
Her record jump also earned her a fourth place finish among all pole vaulters at the competition. "In addition to becoming state champion D2, she finished fourth in the state overall [in the pole vault]," Goldhirsch said. "The fourth place finish is called Federation competition and includes girls competing from small, large and New York City schools." The highest vault at the meet was 12 feet.
Grace qualified for the state's Division II meet in the pole vault with her second place showing at the Section 9 state qualifier at Dietz Stadium on June 1, a jump of 10 feet even.
Goldhirsch was also pleased with the overall performance of the girls track and field team this year.
"We lost only two meets and had a wonderful season," she said. "School records were set and then broken again in the 100 high hurdles, pole vault and most points scored by an individual in one season."
"Kudos to the athletes who competed this season," she added.
Here's hoping that Grace's senior year brings even more success for both her and the team.

Facebook Comments