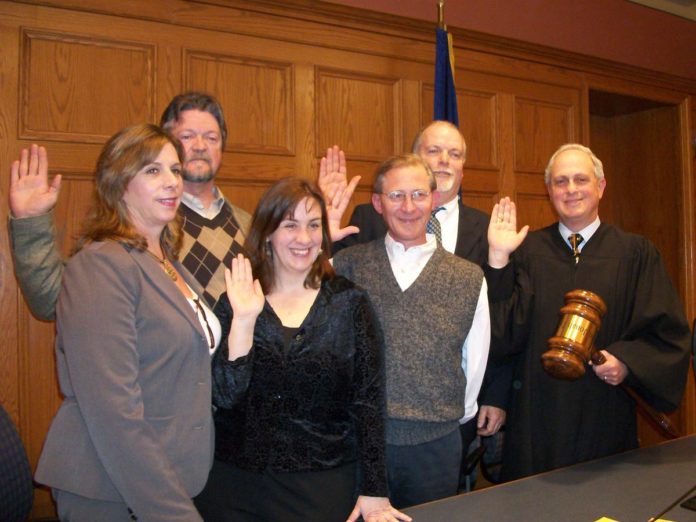 On Monday night at Red Hook Village Hall, four returning officials and one newcomer made it official. Red Hook's new Mayor Ed Blundell, re-elected trustees Jay Trapp and Brent Kovalchik and returning village justice Jonah Triebwasser were all sworn into office along with their newest colleague Jen Norris.
Norris, a long-time volunteer in the Village, was appointed by Blundell to fill the opening left after his election as Mayor. Blundell was halfway through his second term as trustee. All four faced no opposition in their elections.
"I am honored to be elected as Mayor of Red Hook and pledge to work with idealism, pragmatism, patience and openness for the benefit of our residents," said Blundell, a 19 year resident of the village. "The election highlights the fact that I have worked hard already and learned the details of how to manage the village. I truly believe that village living is a resurgent model for society, a re-birth of the concept of neighbors and friends living near one another with the ability to obtain services, public safety, culture and goods locally."
Blundell stated later that he felt a lot of positive energy from the crowd of around 60 people who came to see the swearing in and pledged to work to channel that into good village government. He comes into office succeeding former Mayor Dave Cohen.
Also being sworn in after re-election to a second term was Village Justice Jonah Triebwasser. Triebwasser, who ran unopposed, had four local magistrates in attendance to celebrate his achievement.
"I am very honored to be chosen again to serve the people of the Village of Red Hook as their justice. I look forward to offering continued improvements in the administration of the court," said Judge Triebwasser.
The newcomer to the board is Jen Norris, a village resident for the past 10 years and a regular volunteer. "I'm honored to have been chosen by Ed Blundell, with whom I've worked closely for the past several years on the Hardscrabble Committee. I hope to continue with his vision of the 'vibrant village' and make our community even stronger than it is now," said Norris.
While village candidates do not run on traditional party ballot lines, Mayor Blundell becomes the first Democrat to be elected mayor of the Village of Red Hook in recent years.
Facebook Comments