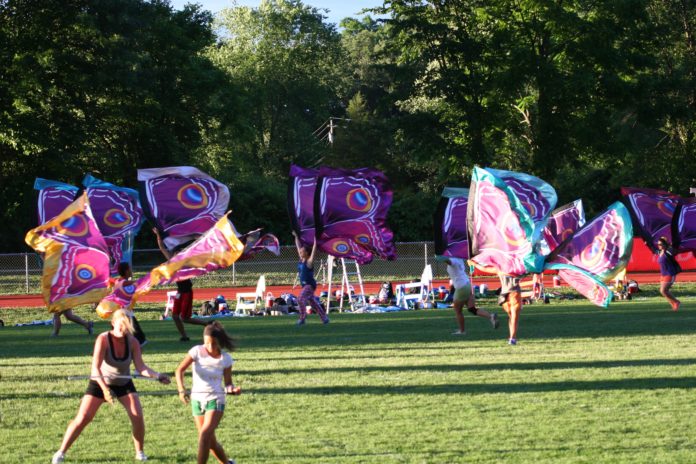 As you may have heard, especially if you lived within earshot, Red Hook High School was the temporary home and practice facility for the Jersey Surf Drum and Bugle Corps, who compete in the World Class division of Drum Corps International.
Bunking in the high school gymnasium with their buses and tractor trailer used to ferry their equipment parked in the lots outside, the band used the high school as a waypoint between northern New Jersey and their competition last weekend in Glens Falls.
In return, they invited the public to attend an open practice/free performance at the football fields on June 26, and it was a packed audience that braved cool winds and dropping temperatures. But they were certainly loving the band as they finished with a full run-through of their performance without uniforms after spending about an hour practicing sections and subsections of different pieces.
The Surf are finishing their first month of touring this year, and they ended up in Red Hook because one of their band members is a Red Hook resident and former student.
"I asked Susan [Palmer], our head chef, 'Hey, we're leaving northern New Jersey on Saturday night. Any place you can think of where we can stop in between…?' And she said, 'I just happen to live exactly halfway,' " said Bob Jacobs, the executive director of the group who has been with the Corps since their founding in 1990.
Susan Palmer, a Red Hook resident, is the mother of Ian Palmer, 14, who joined the Surf this year,moving up after serving on a team last year in the younger division. The age limit for World Class groups is 14 to 21. Ian attended Linden Ave Middle School before transferring to Our Lady of Lourdes in Poughkeepsie.
Facebook Comments