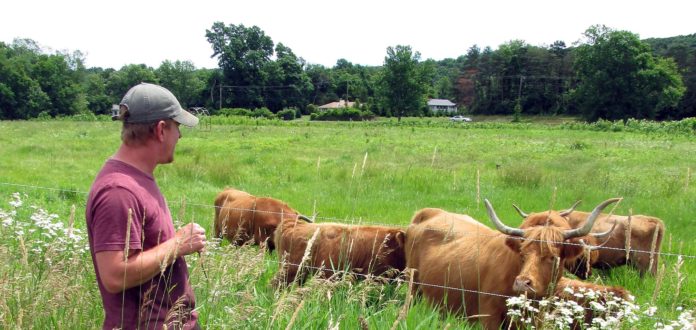 On a sunny late-morning, Chris Fitzgerald works out a few snarls with his tractor and mower, preparing to finish cutting the field of hay, which he began earlier that day. He has taken a week off from his other full-time job to bring in the first cut—enough to feed the horses, llamas, sheep, and goats on the 80 open acres that make up Sepascot Home Farm on Route 308 in Rhinebeck.
Driving by, you might have noticed the small herd of meandering Jersey cows, or spotted a few of the furry Scottish Highland Cattle that often graze along the roadside behind electric fencing.
Sue Fitzgerald and their 21-month old daughter, Grace, tour me around the farm. It's a leisurely stroll past barns of hay wagons and tractors, through the barnyard where we meet Chris and apprentice Ethan Mauger—taking pause from their work day to lean against a fence, admire the sow, and greet me.
Despite the magnitude of work needing to get done on this mixed-species livestock and small-scale vegetable farm in the height of summer, Sue and Chris are casual and generous with their time. Full-time parents, full-time farmers, and both also working other full-time jobs—Sue runs an Internet bookselling business and Chris works in construction—,the Fitzgeralds string all of these disparate pieces together in one cohesive whole in order to make this farm sustainable, profitable, and successful—to keep this piece of land in agricultural production.
The land has been in Sue's family since 1906, when her maternal great-grandparents purchased it. Her great-grandfather died shortly thereafter, leaving the farm in the capable hands of his wife, who ran a dairy farm with prize-wining Guernsey cows, also selling butter, feed, and violets. Her grandparents continued the dairy, converting the herd to Holsteins. More recently, Sue's uncle farmed the property but when he retired around 1986, he sold part of the land to a developer. The developer began to put a road through the pristine land with the intention of building houses, but soon went bankrupt, and the family was able to buy the land back.
Sue's involvement began in the 1990's when she ran a bed-and-breakfast out of the farmhouse for 10 years—but she was trying to find ways to make a living off the land, and gradually switched over from running a B & B to running a farm.
Preserving the agriculture—making the farm work—hugely influences Sue's work because of its rich history and threat of development. "Although it is a broad vision," Sue says, "we want to make a living from the farm itself, for the farm to sustain itself and us. Day-by-day, month-by-month, we are that much closer."
Over the past few years, Sue and Chris have redoubled their efforts to make this possible. Two years ago, they were giving farming their all, but were still unable to make the farm financially sustainable. They began making changes—finding support from talking to other local farmers, hiring a summer intern, and expanding their enterprises. They speak of the tremendous support and feedback they receive from the community—"the reward in having people recognize it's a lot of work… coming to support the farm and experience the space," says Sue.
All of the livestock—the beef and dairy cows, the layer hens, broiler chickens, and pigs—are offered a grass-based diet. Sue tells me, "If you're a beef farmer, you're really a grass farmer." Sue and Chris work to watch and manage their pasture and hayfield, rotating their 50-60 head of beef through to new grass. As we stand admiring the friendly herd of Highland Cattle that have come over to meet us, Chris points out the numerous varieties of grasses, clovers, and other forage that offer the herd a well-rounded diet of greens. The herd is a bellowing mix of beauties in a rainbow of color variations—shades of red, brown, black, tan, and auburn. Raising heritage animals is of particular importance to the Fitzgeralds; they raise Highland cattle because they are known to be friendly, have superior quality meat, and thrive on a forage diet of browsing as well as grazing, which means they do not need grain to maintain health.
While the farm is not certified organic, Sue and Chris keep their farming practices "as organic as we can"—buying organic grain for the animals, bales of certified organic silage for the beef herd to eat in winter, and keeping the animals on pasture with access to all the open space they could want.
Additionally, Sue grows a small vegetable garden next to their farm stand—a newly fenced in area that serves as the humble beginnings of a pick-your-own garden to supplement their extensive selection of grass-fed meats and seasonal berries—strawberries, raspberries, gooseberries, blueberries, and blackberries—at the stand. Sue says, "Every year we try to fine-tune our system… there are a lot of kinks to work out… every year we try to grow."
Sepascot sells through Hudson Valley Harvest and farmie market at www.farmiemarket.com, an on-line farmer's market to connect consumers and deliver produce and meat door-to-door.
The farm stand is open daily from 7am to 7pm. And on Sundays, the community is welcome from noon to 3pm for a family-friendly farm day—with hayrides, a chance to meet and pet the animals, and farm tours. For more information, visit Sue and Chris on-line at sepascothomefarm.com, friend them on facebook, or stop by the stand at 781 Route 308.
Facebook Comments