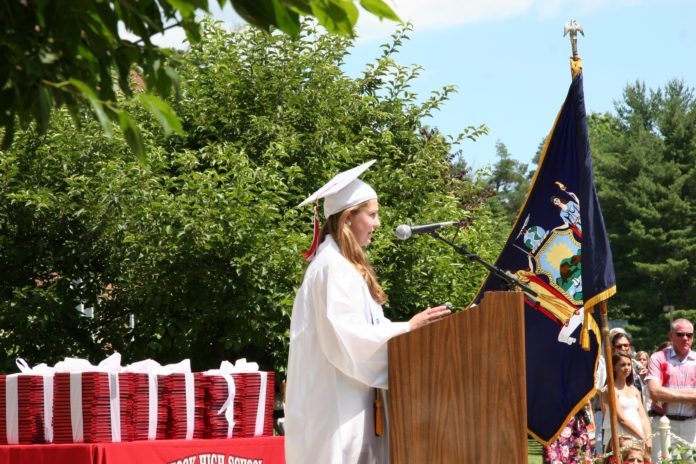 It was a summer morning with the sun overhead and the temperature rising as the students proceeded from the Linden Avenue sidewalk down a cordoned path to bright red chairs set before the historic pillars and steps of what once served as Red Hook's only school.
Members of the Red Hook and Milan community assembled with the families, friends and school staff on the lawn of the Middle School on June 23 to celebrate the graduation of 201 students in what High School Principal Roy Paisley said was the largest graduating class in at least 30 years.
Senior Michael Rose began the program with a stirring rendition of the national anthem to hearty applause from his fellow students. After the singing of the alma mater, the salutatorian, Chandler Coons, stepped to the microphone.
"Fear not what lies ahead," Chandler said. "As our time here at Red Hook High School comes to an end, my advice to you, the graduates of 2012, is to always keep in mind that we are uniquely individual and have faith at any moment we are perfectly shaped for our journey."
Following another musical interlude by the senior chorus members, the valedictorian, Sophie Laing, stood before the podium. Reminiscing about her experiences touching manta rays on the fifth grade class trip to the aquarium with her classmates and watching "The Voyage of the Mimi" in class, she undoubtedly triggered similar memories in many of her classmates. But her message to her classmates was about finding their way in life.
"For everyone has their own true north," Sophie said. "Some find it earlier than others and some may mistake south for north or east for west several times before finding which way is up, but eventually we all get there. It is not always the destination that is so important, though. For the destination can change maybe without you even knowing it. It is the road along the way that matters."
Facebook Comments