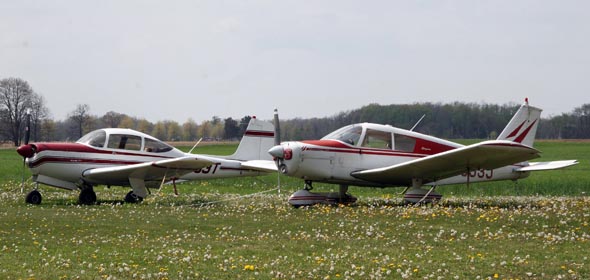 The saga of the Greig airstrip's voyage through Red Hook town's approval process seems to have come to an end.
It began last year when farmer Norm Greig approached the town about the runway on his brother's land, which has been in use at the current location for a few years. The Greig family had operated an airstrip in one location or another on their land for decades.
Greig soon discovered that the airstrip was not grandfathered into the zoning because he could not show it had been in use at the current location long enough to qualify. And so he began his journey to get the airstrip legally approved.
The process involved quite a number of reviews and agencies, including the Federal Aviation Administration, the state Department of Transportation and both the Red Hook town board and the Red Hook planning board. In addition, because of how the runway was situated, variances were needed from the Red Hook Zoning Board of Appeals.
On the evening of June 18, Greig sat before the planning board as it laid out its final limitations for operating the runway. Among the restrictions on the special use permit:
Only aircraft owned or controlled by the Greig family may use the runway.
Except for agricultural use, helicopter use will not be permitted.
There can be only one take-off and landing each week.
All representations, proposals, stipulations, restrictions and other similar statements made by Greig to the planning board at its meetings between August 2011 and June 2012 will be considered conditions for the approval.
After receiving the planners' approval, Greig had one more step: the town board.
At the Red Hook town board meeting June 27, the board also worked through a list of conditions similar in scope to that of the planning board. But during the discussion, Greig expressed concern about one planning board condition.
"To include all the language and discussion from the last nine months as a condition seems incredibly vague and surely invites chaos going forward, because it requires anyone who has any objections to go through all the minutes and all the conversation — hours of conversation — and decide what's criteria and what's not criteria," Greig said.
The town attorney Christine Chale told Greig that planning board concerns need to be taken up with the planning board and that the town board cannot change any of the planning board's conditions.
After receiving his approval from the town board, Greig was asked if he would be returning to the planning board to address his concern. "I don't know," he replied.
Facebook Comments