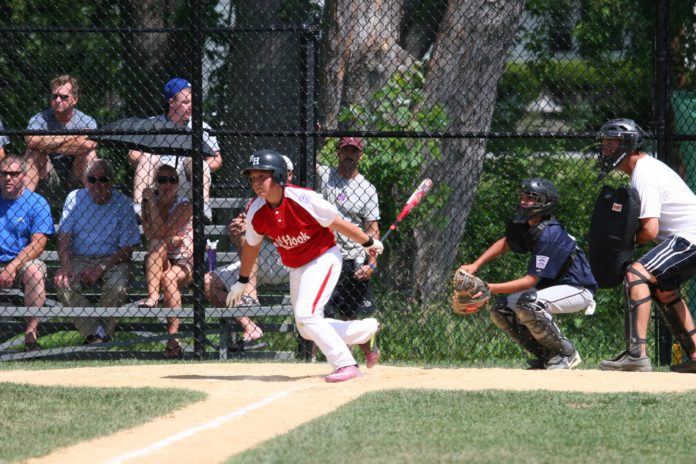 Red Hook Little League celebrated its 50th anniversary this year, splitting games at the newly renovated Father Carroll Field and the Red Hook Rec Park, and finished its regular season two weeks ago. But Red Hook hardball doesn't end there: Red Hook will be fielding seven tournament teams in the District 17 tournament that includes Dutchess County, parts of Columbia and Putnam Counties, and a chunk of Connecticut. The tournament teams are competing for a place in the Little League World Series.
The 9-10 year old softball tournament team, managed by Dave Wyant and coached by Amy Wyant and Stacie Totman, fielded Grace Beach, Sana Cheema, Anabel DeMartino, Ruby Esposito, Shannon Fitzpatrick, Stacie Kubsch, Rebekah Martz, Alexis Murphy, Sydney O'Neill, Camdyn Rakow, Alyssa Virga, and Miranda Wyant. The team dropped the first game of the tournament to Taconic, losing 15-3 on June 26.
The 11-12 year old softball team, managed by Shawn Ball with coaches Art Smith and Dave Booz, fielded a squad consisting of Lauren Stokes, Megan Jankowiak, Abby Carney, Grace Folmsbee, Makenzie Smith, Kelsey Ball, Dasha Latvis, Syr Esposito, Chloe Smith, Lauren Werbeck, Anna Booz, and Helena O'Shea. The team beat Wappinger 16-15 in the first leg of the tournament on June 19, but lost to Pawling, 12-2, in the next round on June 23.
The 9-10 year old baseball team, managed by Kevin Dorrian and coached by Brian Kelly and Todd Grieb, fielded Anthony Abbatiello, Jason Cascone, Joey Clark, Brendan Dorrian, Connor Fennell, Peyton Horst, Brian Kelly, James Krinitsky, Evan Rohrmeier, Noah Sokes, Trevor Grieb, and Aidan Sinnort. Red Hook lost their first game of the tournament to LaGrange on the June 24, 10-0.
The 10-11 year old team, managed by Kevin Flood and coached by Chris Yearwood and Mark Garcia, will field James Flood, Alon Iwamoto, Kevin Murray, Joe Garcia, Matt Hunziker, Zach Shott, Chris Yearwood, Nolan Borbeau, Declan O'Callaghan, Hunter Cole, and Caspian Packard. The team will play at Phillipstown on July 6 at 5:30pm.
11-12 will be managed by Wayne Kihlmire and coached by Tom Decker and Joe Coon, and will have Sean Berry, Matt Zduniak, Eric Decker, Eric Johnson, Jordan Rabbit, James Rossetti, Skyler Coon, Alyssa Rusnock, Ian Anderson, Liam Jantzen, and Jake Kihlmire. Red Hook dropped their June 30 game to Taconic, 9-2.
Baseball Juniors, aged 13-14, will be managed by Craig Christensen and coached by Craig Zduniak and Ron Morrissey, and will run with a team of Connor Christensen, Austin Cole, Nick Hunziker, Kevin Jordan, Nick Morrissey, Jimmy Mulvey, Nick Norton, Griffin Kopec, Devin Schott, Christ Turgeon, Hunter Valentine, and Cameron Zduniak. The team's next game was scheduled against Poughkeepsie at the Rec Park, July 2 at 5:45pm in the second game of their series with Poughkeepsie.
The Senior Baseball tournament team, aged 15-16, managed by Russ Frehling and coached by Jesse Frehling and Patty Stewart, will field Dylan Snow, Matthew Jordan, Patrick Troy, Greg Karpinski, AJ Coolbaugh, Tyler Rivenberg, Connor Decker, Mike Smykla, Steve Munisteri, Ross Morrison, and Nick Bannister. The Seniors will play at Fishkill July 1 at 2pm, in the second game of their series with Fishkill.
Facebook Comments