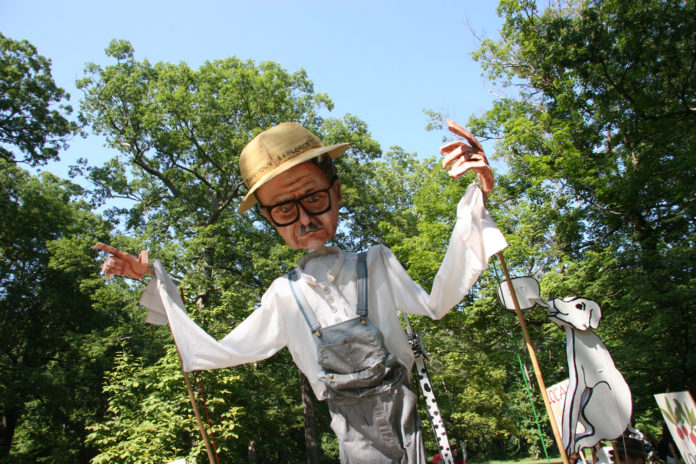 Whether it was the tinsmith or the blacksmith, the ice-cutting tools or the ice boats, the horse-drawn surrey or the 20th century tractors, the FDR impersonator or the "my 'son' would like to talk to you" clown/mime, there was a historical crop of knowledge harvested at Montgomery Place on July 14 as Red Hook jubilantly celebrated its Community Heritage Day.
The free, family-focused day-long party was the keystone event in the months-long and ongoing bicentennial celebration in Red Hook.
An estimated 2,000 people visited exhibits, watched demonstrations and enjoyed the many towering shade trees protecting them from the hot summer sun. The morning had brought a brief shower, but nothing was going to rain on this parade.
With shuttle buses running from various locations around town, the crowds continued to swell as the big event of the day, the puppet procession, approached at 4pm. And they were not disappointed.
Five giant puppets and dozens of props representing historical individuals, moments and buildings in the town's history — constructed over the last two weeks by volunteers in workshops held at St. Paul's Lutheran Church — were marched proudly down the path to the Montgomery Place mansion.
The day was planned and organized by the Red Hook Bicentennial Committee. With months of planning and logistics involved, Community Heritage Day may have been what one visitor termed, "the greatest event ever held in Red Hook." For more information on upcoming bicentennial events, visit www.redhook200.org.
Facebook Comments