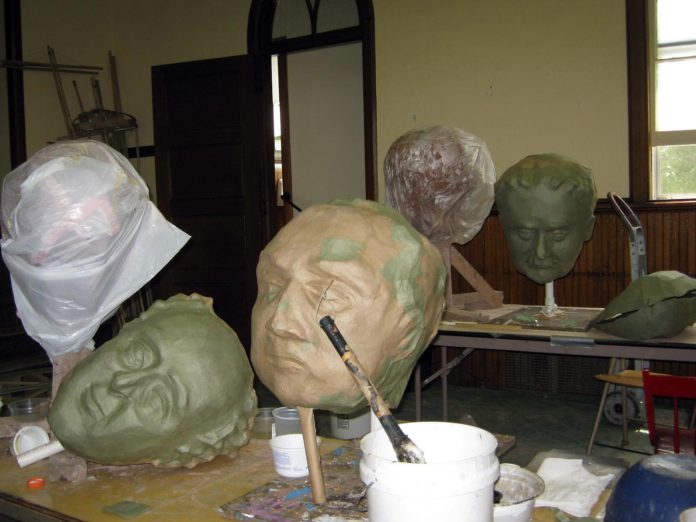 Huge heads, big bloomers, super soap dispensers, mega milk cans, and very large cardboard creations gradually filled the Parish Hall at St. Paul's Lutheran Church in Red Hook last week as many volunteers began crafting the 100 or so pieces that represented 200 years of town history in the Bicentennial Parade last Saturday.
As inspiration and reference during the two weeks of workshops for the project, the bulletin board at the front of the hall was covered with photographs, drawings, newspaper clippings, and a detailed timeline that puppeteer and artist Sophia Michahelles called "the crime scene map."
Michahelles related stories about people and places to all the volunteers before they began cutting, bending, taping, gluing, papiermache-ing, and painting. Her presentation was so impressive that someone asked, "Are you making a book out of this?"
Michahelles and Alex Kahn are internationally acclaimed puppeteers and the directors of Superior Concept Monsters (SCM), an ensemble of artists and theatrical technicians devoted to "Building Community Through Processional Art." They are probably best known for their presence in the NYC Halloween Parade and, locally, the annual Rhinebeck Sinterklaas Christmas pageant.
But, since they live in nearby Barrytown, Sophia's knowledge of local lore has not come from a crash course.
"It's really fun for us to do a project in our hometown," she said. They were approached by the Bicentennial Committee last year, and the first meetings for the project were in December, initially with just a few members of the Egbert Benson Historical Society and later with anyone who wanted to come and contribute knowledge and memories.
"Sometimes we go into communities, and we really have to coax the stories out of people — it takes a while," Sophia continued. "Here, there was no 'quiet period.' There are many people here who know and love the history and are very invested in the historical aspect of what Red Hook is and who the people were."
Standing next to a large cardboard sewing machine, drill gun in hand, Alex spoke about the relation of the "puppets" to Red Hook's past.
"You can approach this as history with a capital H, but there is also the history of everyday objects and everyday life, personal recollections," he said. "We like to start with small objects that people have a 'sense memory' of, and you build out from that."
George Sell arrived with a large white sculpture made of urethane foam, which he and Alex seriously studied to determine the best way to support and carry it in the parade. The piece was a perfect replica to scale of one of the soap dispensers once made at the Old Soap Factory just down the road from where they were standing.
Alex and Sophia said they were lucky to get George as a volunteer: his background is in "making things" for network television shows. For his part, Sell said the two-week "story-building" workshops, which ran from June 30 to July 13 were a luxury of time because he is used to creating on demand for TV deadlines.
"Vivid, everyday examples are what make a parade larger than life," added Alex.
To learn about the rest of the year's celebrations for the Red Hook Bicentennial: www.redhook200.org and about Superior Concept Monsters: www.superiorconcept.org.
Facebook Comments