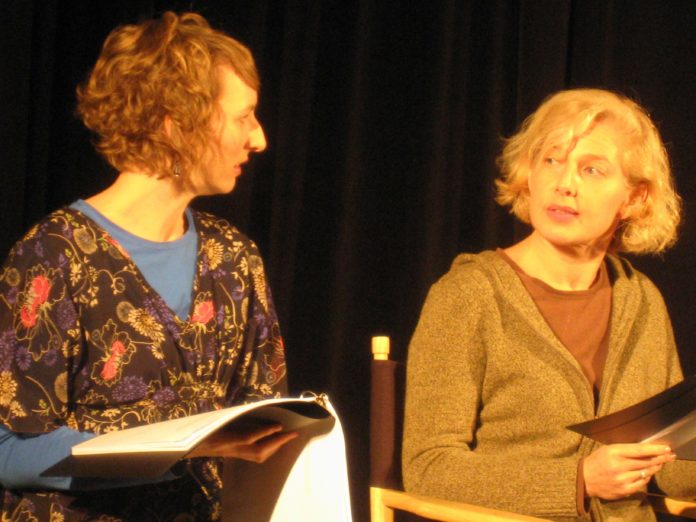 Tangent Theatre Company and AboutFACE Ireland recently announced their NEWvember festival, which will showcase original plays by promising playwrights and run from Nov. 8 through 11 at the Carpenter Shop Theater in Tivoli.
The call has gone out far and wide for submissions for the showcase, which follows on the heels of Tangent's successful run of the award-winning Irish play "The Good Father," by Christian O'Reilly.
"The NEWvember Festival is the second of this nature," said Andrea Rhodes, producing director of Tangent. "We created this festival last November with Anna and Paul Nugent, who are actors, directors and part-time writers living in New Jersey and New York. We collaborate on many things. They are also a part of AboutFACE, based in Dublin, Ireland."
The couples met when Rhodes and Michael Rhodes, Andrea's husband and Tangent's artistic director, went to Ireland for the first time, and she sent out blind e-mails to local Irish theater companies in the hope of sparking an artistic connection. "Two companies got back to me," she said. Though the Nugents had already moved to the United States, Rhodes said she, Michael and the artists of AboutFACE "shared pints and laughs." The Rhodes were told about the Nugents, and they have become friends and colleagues. "We've worked together many times," she said, adding, "They introduced us to pub theater," a series of readings that have been particularly successful for Tangent.
Last year's NEWvember project "started a little bit smaller," said Rhodes. "We looked to playwrights we knew. We got a number of submissions and pared it down to six plays, to run Thursday through Sunday. There were four full-lengths and two one-acts paired together. The playwrights were based in New York City and Hudson Valley, and we brought actors up from New York City and locally. We were able to create a wonderful energy and excitement in the village and among us."
Plays are being accepted until Aug. 1; the selected plays will be announced mid-October. "We're reprising the same format," said Rhodes, "but spreading the word much wider. We feel like we will be concentrated in Hudson Valley and New York City, but I got a call from someone from Louisville, Kentucky. I didn't even ask him how he heard about us! The sky's the limit – they can come from everywhere."
Even so, she added, they already have 160 submissions.
Of course, one of the considerations is how small a staff mans this enterprise. "There are only a few of us reading the plays at this point," she said. "We have to keep it somewhat contained."
The group is on the lookout for "plays that excite us," said Rhodes. "Adult contemporary – along those lines is a fit." The hope is to find plays that can be featured during these staged readings and then go on to have a life of their own in more fully staged production for even more people. "It's an interesting launch pad for work to see if it goes on to have legs," she said.
Theater-goers will see the play presented in a "pretty tight" fashion, explained Rhodes, with actors sitting in director's chairs. "We try to cast as appropriately as we can. A handful of actors double up on parts to keep it somewhat contained, she added."
One aim of the festival is to gather together the actors and directors with the playwrights. "There's definitely some coordination of actors and directors and playwrights to attend, we would love that," she said. "There are opportunities to have talk-backs (where the audience gets to hear the playwright comment and even take questions after a performance). The audience and the playwright gets to see the work come to life as best we can."
Local playwrights who would like to submit their work for consideration should go to tangent-arts.org for more information.
Tickets are only $10 per show; information on a festival package will be forthcoming. Go to tangent-arts.org for more information.
Facebook Comments