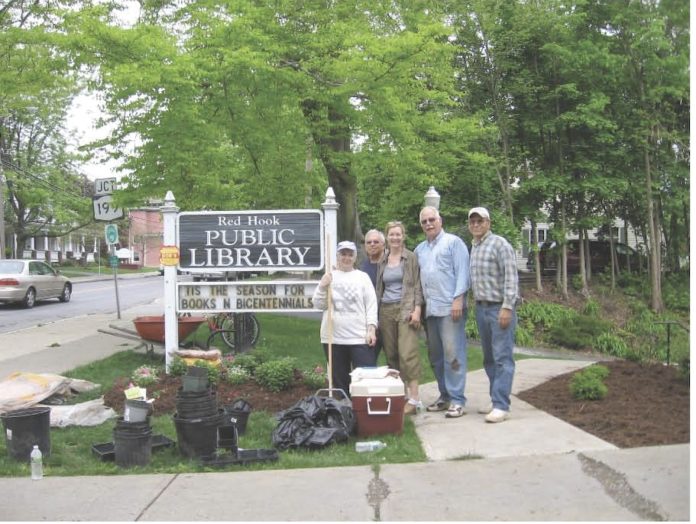 Those who know the Friends of Red Hook Public Library never doubt that a small group of committed people can make a big change (to paraphrase anthropologist Margaret Mead). They have played an integral role in the transformation of Red Hook Public Library since they first met, and they continue to work behind the scenes to make it a more vibrant place.
This spring, the Friends planned and undertook a complete overhaul of the grounds: a merry band of volunteers planted trees, shrubs, perennial and annual flowers in front.
The process began more than a year ago, when Frank Campagna recruited Phil Seymour to remove the yews in front of the library. Once the old bushes were taken out, Arvine "Bucky" Coon donated topsoil and mulch to prepare the ground for this spring's planting, which was overseen and coordinated by Master Gardener Loretta Campagna.
Campagna researched 19th-century heirloom plants that would fit with the mid-19th century building's history and architecture, and created a landscape plan that would show the building to its best advantage.
The octagonal building was built in 1864 by Allan Barringer Hendricks. Originally a 10-room residence built of poured concrete and covered with stucco, it was purchased in 1935 to serve as a library for Red Hook. Beginning with a collection of just 360 volumes, the library currently houses books, periodicals, audio tapes, DVDs, and computers. The most recent renovation was the creation of a children's library on the lower level.
For more information, call the Red Hook Public Library, 845-758-3241. The library is located at 7444 S. Broadway in Red Hook and on the Web at www.redhooklibrary.org.
Facebook Comments