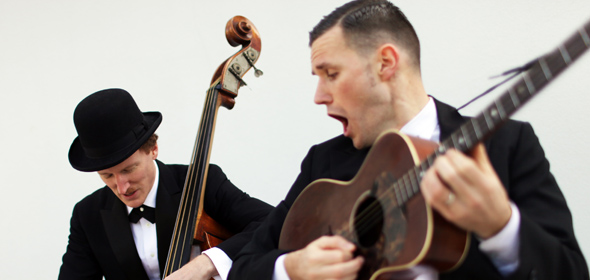 The Two Man Gentlemen Band returns to Bard College's spectacular Spiegeltent this year for another rousing night of music and carousing. If you've never been to the Spiegeltent, it's a "mirror tent" of wonderment amidst the revelry of SummerScape, where patrons can see off-the-wall acts of acrobats, cabaret entertainment, musicians and more while noshing on local food and drinks.
On Friday, Aug. 17 at 8:30pm, you can catch songwriter and tenor guitarist Andy Bean and his partner, upright bass player Fuller Condon, who perform a thrilling blend of pre-war American jazz and contemporary sounds. They've turned out to be a must-see live act on the roots and retro music circuits, so their one-night-only concert is not to be missed.
"We hit the road full time in 2007. Before that, we were street performers in New York City. Only during the warm weather months," Bean said with a laugh.
The duo is known not only for their smooth sound but also for their theatrical showmanship, riffing off each other and playing with the audience.
"We're theatrical," Bean said, "really bad actors. The theatrical (element) comes out between songs when we're bantering with each other. It's all improvised. We are on the edge of our seats when we're talking with each other and the audience." It's all seriousness about the music, he added: "We play so fast that we've got to concentrate on hitting the right notes. We move as little as possible. The music speaks for itself."
Their latest album, "Two at a Time," had a unique genesis that combined an ultra-modern approach with old-fashion music techniques. The Gentlemen funded the project using an online fan-fundraising campaign, and then they turned the clock back a few decades to make the record without any digital technology: They recorded their songs live to monophonic analog tape using microphones and equipment from the 1940s and '50s.
It's that kind of blend that keeps patrons lined up to watch the Gentlemen perform, and it's also part of what inspired Bean to keep writing songs. "Our influences are getting free drinks and meeting people late at night on a weeknight," he said with a laugh. "It's about food, beverages and parties. And occasionally, long-distance travel and poverty, the hallmarks of life on the road for touring musicians. We always say that a four-hour drive and playing music for three hours is a seven-hour work day!"
The duo relocated from New York City to dual home bases in Los Angeles and Charleston, S.C., so much of their time is spent on the move in-between shows, which Bean said cramps their song-writing process a bit.
"We spend so much darn time on the road, sitting in silence in the minivan," lamented Bean. His music, therefore, is "very id based. I'm so thankful when I have a song done that we don't get too cerebral about it. It's divine inspiration."
Returning to the Spiegeltent is divine as well, he added. "We had a great time last year," he said. "And folks did too. It's really one of the most magical rooms we've ever played in, so we jumped at the opportunity to return."
Bean said he also enjoys the Spiegeltent audience: "It's always our goal that, in the hour or two we're there, in addition to seeing music well performed, we keep a smile on people's faces. It's high-quality escapism."
Bard SummerScape presents
Evening Cabaret: Two Man Gentlemen Band
Friday, Aug. 17, 8:30pm
Tickets: $25 (21+ only)
Fisher Center Box Office: 845-758-7900
Bard College
Facebook Comments