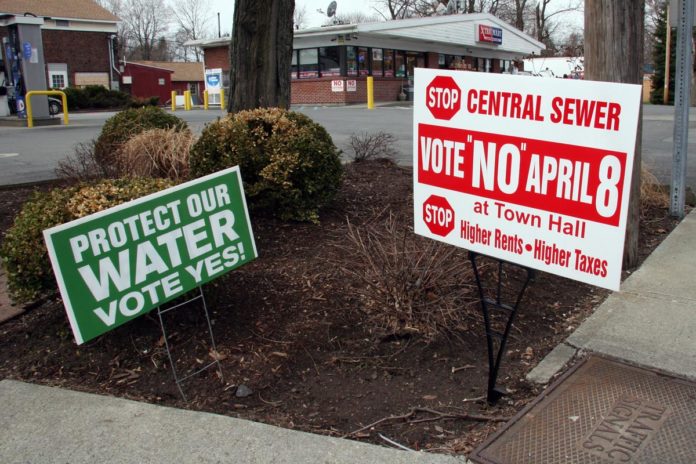 After weeks of back and forth, accusations and counter-arguments, the Red Hook Sewer District has failed to pass and a key element of the Centers and Green Spaces rezoning plan will not exist. The day was marred with mutilated and defaced "Vote YES" signs and it ended in victory for the Vote NO contingent.
With Democratic County Elections Commissioner Fran Knapp on hand and Red Hook Supervisor Sue Crane looking on, the results were read. With 139 votes cast, the machine votes made the result clear with a more than 2-1 margin. Nearly 200 people ineligible to vote came to cast their ballots only to be turned away, some saying they had received information in the mail suggesting they could vote.
Also on hand was Rosemarie Zenga, head of the Save Our Town Committee and Linda Keeling who headed up the Citizens Opposed to Sewer Taxation. Both had led the opposition to the sewer. Ms. Zenga was quiet before the results were read but burst into applause when the results were read.
According to the DCWWA, the total project cost was estimated at $8.1 million. Of this total, $3.59 million would have been funded by State and Federal grants. The remaining cost of $4.5 million would have been funded by a thirty year, 0% interest loan from New York State. The likelihood of a deal like that being offered again in the near future is slim and any future sewer will likely cost significantly more.
Supporters pointed out that the creation of the sewer district would have cleared the way for new businesses to locate themselves here in the future, including a small hotel, more restaurants and more apartments which would not be feasible under a septic-only plan. And that many local businesses, already starving for foot traffic, will feel the impact of this far into the future.
Others who opposed the sewer rejected those arguments and objected to the additional tax burden.
For more detailed information about the sewer district, visit the county web site at www.redhooksewer.org
Facebook Comments