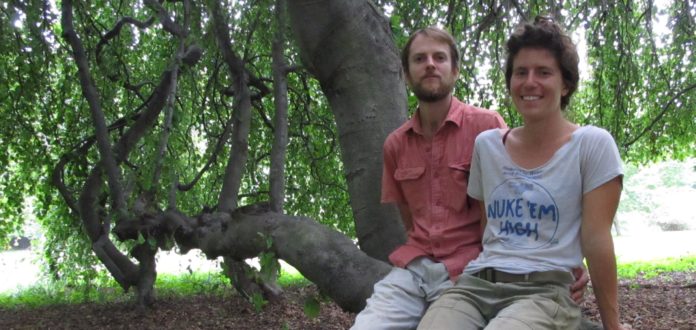 Century-old refinished greenhouses are home to rare varieties of hot peppers and hops; outside are arced beds of herbs, cold frames of ginger and turmeric, a garden of tomatoes. It's all set against a backdrop of the mighty Hudson River.
"A few months ago, this was a parking lot," says Olivia Kirby, who with Zach Wolf operates this highly diversified farm at The Locusts on the Hudson, a historic private estate in Staatsburg owned by hotelier Andre Balazs.
Plowing the soil exposed the fertility of the land, she adds. "One of the sweetest things about this spot," says Olivia, "is the bald eagles living nearby—swooping over to catch fish."
Olivia began her work here last year part-time—coming three days a week to grow vegetables. Zach joined this year as co-manager, and together they have shaped the landscape into a haven of delicately cared-for garden beds, education, and experimentation.
The Farm at the Locusts maintains a diversity of operations—raising pigs, broiler and layer hens, a milk cow; it also has an apiary and 3 ¼ acres of vegetables, flowers, and herbs.
We tour the dairy barns that were built in the late 1800s: these monumental and magical structures of greys, blacks, and whites, which once housed a dairy operation, now stand in splendor paying homage to the farm's rich working past.
In their first year of full-on production, Zach and Olivia are re-cultivating the land and bringing these elegant structures back to life through their work. They use organic practices to grow what their apprentice Faith Gilbert describes as "beautiful, artful food."
The farm business is co-owned by Balazs and James Truman, and came out of an initiate to bring farm food to The Standard Grill—Balaz' trendy New York City restaurant that feeds up to 1,000 people each day.
Olivia and Zach are supported by the owners, who have made it a priority to invest in the establishment of a farm and connect the vision and needs of the restaurant with the farmers who work the land. The rest of the private estate, with its Neo-Baroque manor, sits on land surrounded by 1,000 acres of national parkland.
The farm has retained 75 acres of the original 1,000-acre dairy, and recently began to lease 10 acres of land on the adjacent state-owned bird sanctuary. Olivia says they anticipate creating an education center that will focus on agriculture and nutrition, and building a market that will be open to the neighboring public. "We want that to happen—not to feel isolated, but know better what we're surrounded by. We want people here to have good food," she says.
The promotion of education is a priority for Zach and Olivia, and it's integral to their farming. Zach spent three years at the Stone Barns Center outside of Tarrytown, where he worked as field manager supervising four acres of vegetables and fruit, and managing apprentices. At Stone Barns, he created an educational curriculum to train new farmers. Taking the time to teach apprentices, he says, gives him "the excuse to stay somewhat academic with farming—to discuss science." He mentions how satisfying it is to see folks who he has formerly worked with go on to careers in agriculture—"not that you're responsible, but you know that you've helped facilitate that transition."
At The Farm, Zach and Olivia have built a curriculum for their four apprentices. Classes include the management of water resources on a farm, soil science, and crop rotation—tools to serve these young farmers into the future.
The farmers and apprentices begin each day with a meditation practice—keeping five minutes to gain perspective and mindfulness and encourage each farmer to "collect themselves and come into the space they're in, to focus their attention on breath," as Olivia explains.
Olivia feels inspired by the "challenge of being patient and seeing things freshly… the farm is led by an organic and spontaneous style of management." Their task as farmers, she says, is to observe "how things resonate well with each other… or don't. It's a new way of looking."
Facebook Comments