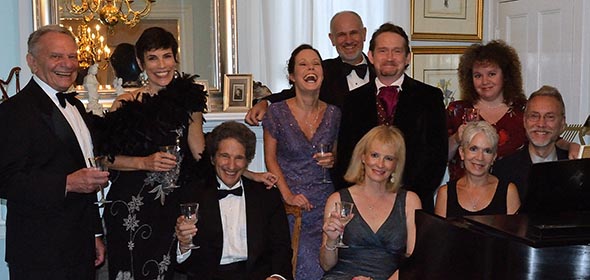 You have two fun opportunities to inject the arts into your Labor Day weekend festivities. So instead of making it all about grilling hot dogs and cannon-balling into the pool, you can be transported by the sweet sounds of favorite musicals courtesy of some special artists. And you can also enjoy a sneak peek into local artists' studios.
The Center for Performing Arts at Rhinebeck will be transformed into an elegant cabaret to mark the end of summer with "Highlights from the Footlights," a "razzle-dazzle" style of party that will feature favorite songs from some of the best-loved Broadway blockbusters, like "Fiddler on the Roof," "Cabaret," "Oklahoma!" and the soon-to-be-feature-film "Les Misérables." There will also be tunes from classic movies and from the general cabaret genre.
"We've been doing it (the show) for a long time," said Marlene Golia, co-producer with her husband, Bernie Ruderman. "We started about 15 years ago. They've kind of blossomed – every year it's a little different. The people are a little different. It seems to get better and better."
Golia hopes audiences will hear old favorites and be treated to some new discoveries, all the while having a splendid time. "That's one of the joys of this project," she said, when asked about the planning aspect. "We never start out with a list of songs. We start out with a list of people and ask, 'What do you want to sing?' Then we see which (songs) make sense, and end up with about 25 songs. Somehow, we weave them together, with some little narration and some stories. Sometimes the performers introduce their own songs; sometimes there is a little dialogue. We don't really tell a story, but somehow it fits together in the end. I feel as if we're cheating when we say we're the producers and directors; it's a collaboration."
Part of the treat of "Highlights from the Footlights" is an opportunity to hear some favorite actor-singers taking on beloved songs. The performers include Johnny Dell and Lisa Lynds, who just finished thrilling Center audiences as Tevya and Golde in "Fiddler on the Roof."
"We have both returning and new faces," said Golia. They include George Conrad, who recently played Jesus in "Godspell" and Henry Higgins in "My Fair Lady;" Thomas Vernier, who performed the title role in "Dracula" and McMurphy in "One Flew Over the Cuckoo's Nest;" and Jim Klosty, who played Sir Thomas More in "A Man For All Seasons." Barbara Rankin, Katie DeFiglio, Mary Dallari, Barbara Hardgrave, Ben Kellner and Golia, make up the rest of the cast.
"I think if you talk to anyone involved, they will tell you how much fun it is," said Golia. "For example, we're rehearsing tonight, at our house. We sit around and go through the songs. You get to listen to these great performers doing their numbers, get to laugh, have a little wine or ice tea. It's like a party, every rehearsal. All the performers are delighted to get to do songs they want to do. It's a joyful experience."
Expect to hear "Wilkommen" from "Cabaret," "Don't Rain on My Parade" from "Funny Girl," "Surrey with the Fringe on the Top" from "Oklahoma," and "If I Were a Rich Man" from "Fiddler." The performers will be accompanied on the piano by JoAnne and Paul Schubert; Ruderman will serve as host through the festivities
And Golia added, "We always end with 'Make Our Garden Grow' from 'Candide.' It's become the signature of the show."
Performances are Sat., Sept. 1 at 8pm and Sun., Sept. 2 at 3pm at the Center for Performing Arts at Rhinebeck, 661 Route 308. Tickets are $20 and $22, with a special discount for groups of 10 or more. For tickets and information, visit the Center's website at www.centerforperformingarts.org or call the box office: 845-876-3080.
---
Labor Day weekend also includes the 5th annual Art Studio Views, a free, self-guided tour designed to promote the artwork and talents of 30 local artists in the Northern Dutchess County area.
These artists will open their studios to visitors from 11am to 5pm on Saturday and Sunday, Sept. 1 and 2. Participating artists are from Rhinebeck, Red Hook, Tivoli, Staatsburg, and Hyde Park, and are eager to share their creative environment, and help visitors understand the inspiration that drives their passion.
To learn more about the tour, get a driving map or get additional information, go to artstudioviews.com.
Facebook Comments