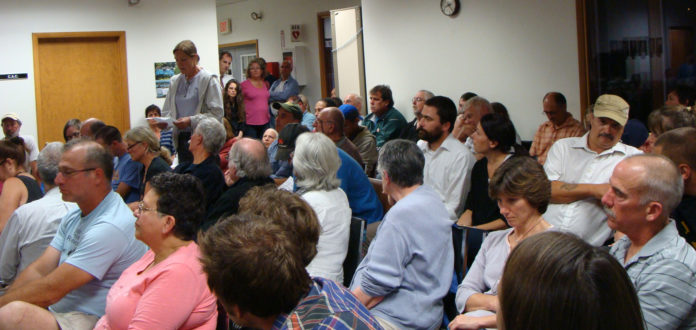 More than 90 local residents filled Red Hook Town Hall's meeting room and overflowed into the adjoining hallways for the planning board's Aug. 20 public hearing on an 11-lot major subdivision proposed for Feller Newmark Road.
And no one supported the idea.
The dozen residents who spoke were adamant that the proposed development would have a horrific impact on traffic in the area, would disrupt farming in the area and would set a dangerous overall precedent in the town.
In addition, a petition signed by 344 people opposed to the project was presented to the planners by Jason Alderman, who lives in the road.
The subdivision, to be called The Preserve, would be laid out on 100 acres of farmland and accessed via a proposed private road between 355 and 369 Feller Newmark Road. The plan has been revised repeatedly as the developer, Landmark Properties, worked with the planning board to mitigate environmental concerns and development restrictions, including attempts to protect wetlands and habitats used by threatened species and preserve much of the farming soils under a conservation easement.
The plan also was revised to reflect last year's town zoning changes and now clusters the 11 homes together at the south end of the project in an effort to leave the remainder of the tree-covered property untouched.
The Aug. 20 hearing was the first opportunity for the public to weigh in on all of that as the project approaches its first milestone: preliminary approval from town planners.
The location—and its access—became the first target of residents' concern.
As proposed, the private road would connect to Feller Newmark Road on a tight, sloped turn that has limited visibility. In the initial application, the applicant claimed there were 494 feet of sight line downhill to the west and 193 feet uphill to the east. However, residents took measurements that showed less than half that distance to the west. Safety guidelines in the town require at least 300 feet of sight distance for roads with listed speeds of 35mph, which is the limit on Feller Newmark Road.
Facebook Comments